In this Blog I will outline the general functionality of the newly released Nikon NX Studio software which has just been released.  This new software from Nikon is FREE no charge.  You can get a very good idea of how the new Nikon NX Studio software works by briefly working your way through the menu hierarchy. So I will summarise the main aspects of the menus below.
For details on the Video/Movie part of this software see here.
Main Menus
File Menu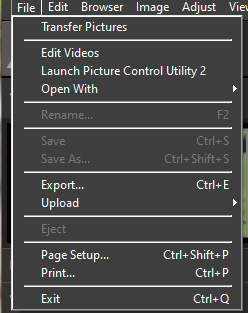 Take Pictures Remotely – Only displayed if Camera Control Pro 2 is installed.
Edit Videos – Opens Movie Editor.
Launch Picture Control Utility 2 – Only displayed if Picture Control Utility 2 is installed.
Open With – Opens other registered software.
Rename – Renames the current image.
Save – Saves the image.
Save As – Saves with a new name.
Export – Exports image with selected format.
Upload – Upload images to Nikon Image Space or YouTube.
Eject – Eject removable media.
Page Setup -Set printer settings.
Print – Prints image.
Exit – Exits NX Studio.
Edit Menu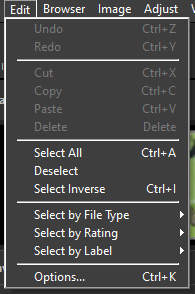 Undo.
Redo.
Cut.
Copy.
Paste.
Delete.
Select All – Selects all images.
Deselect – Deselects all selected images.
Select Inverse – Selects images not currently selected.
Select By File Type – Selects images.
Select By Rating – Selects images.
Select By Label – Selects images.
Options – Opens preferences dialogue.
Browser Menu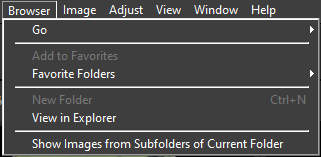 Go – Navigates the folder hierarchy.
Add To Favorites – Add the current folder to Favorites.
Favorite Folders – Choose one of the Favorites folders.
New Folder – Create a new folder.
View In Explorer – Opens current folder in Explorer.
Show Images from Subfolders of Current Folder – Includes subfolders.
Image Menu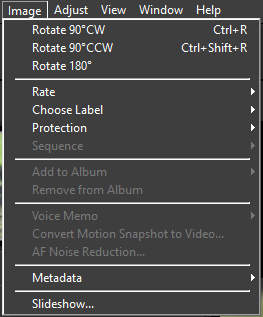 Rotate 90 Degrees CW – Rotate image.
Rotate 90 Degrees CCW – Rotate image.
Rotate 180 Degrees – Rotate image.
Rate – Rate image.
Choose Label – Label image.
Protection – Protect image.
Sequence,

Change Key Image – Choose image as key,
Unsequence – Unsequence a series of images.

Add To Album – Add to album.
Remove From Album – Remove from album.
Voice Memo – Start and stop playback.
Convert Motion Snapshot to Video – Convert to video.
AF Noise Reduction – Process to reduce sound noise.
Metadata

Export File/Phot Info – Export text file,
Copy File/Photo Info – Copy to clipboard,
Copy IPTC Data – Copy data,
Paste IPTC Data – Paste data,
Import XMP/IPTC Preset – Import presets,
Copy Location Data – Copy location data,
Paste Location Data – Paste location data,
Delete Location Data – Delete location data,
Delete Heading – Delete compas heading,

Slideshow – View current selection as a slideshow.
Adjust Menu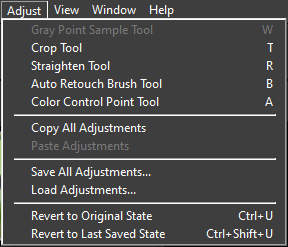 Gray Point Sample Tool – Click to Adjust White Balance.
Crop Tool – Crop images.
Straighten Tool – Straighten images.
Auto Retouch Brush Tool – Remove dust and scratches.
Color Control Point Tool – Enhance image with control point.
Copy All Adjustments – Copy to Clipboard.
Paste Adjustments – Paste from Clipboard.
Save All Adjustments – Save changes in File.
Load Adjustments – load adjustments from file.
View Menu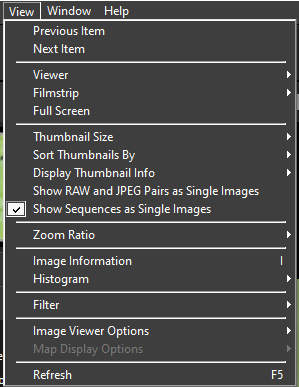 Previous Item – Display previous item.
Next Item – Display next item.
Viewer – Optional displays in the view area.
Filmstrip – Changes orientation of filmstrip.
Full Screen – Select full screen.
Thumbnail Size – Chooses thumbnail size.
Sort Thumbnails By – Sorts thumbnails as follows.

Name,
Date Shot,
Date Modified,
File Size,
File Type,
Rating,
Label,

ISO Sensitivity,

Shutter Speed,

Focal Length,
Ascending,
Descending.

Display Thumbnail Info – Select whether file information is displayed with thumbnails.

Show Raw and JPEG Pairs as Single Images – Display RAW and JPEG images as a single image.
Show Sequences as Single Images – Displays sequences as a single image.
Zoom Ratio – Zoom ratio in and out of image.
Image Information – Display camera and file information.
Histogram – Select Histogram together with settings.
Filter – Filter images by label, rating, protection Status or file type.
Window Menu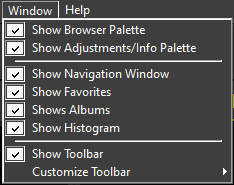 Show Browser Palette – View or hide.
Show Adjustments/Info Palette – View or hide.
Show Navigation Window – View or hide.
Show – View or hide.
Show Albums – View or hide.
Show Histogram – View or hide.
Show Toolbar – View or hide.
Cusomise Toolbar –   Chooses the tools.
Help Menu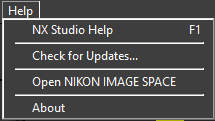 NX Studio Help – Views help.
Check for updates – checks for updates.
Open Nikon Image Space – Open Nikon Image Space.
About – View version information.
Continued in Part2.