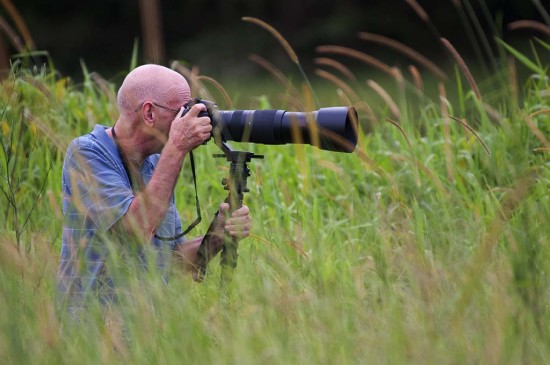 The main issue with your photographic gear is that you are comfortable with what you use and that it produces the results that you desire. There is no point in having the sharpest and widest aperture lens if it is too heavy for you to carry around. Select the best equipment to fit your budget.  Sometimes it may be better to get some cheaper and lighter to handle equipment as it may suite your style better.  The following is a list of photographic equipment that I currently use for my work:
Nikon Z50 DX Camera – An excellent small mirrorless camera, a camera suitable to carry anywhere.
Nikon NIKKOR Z 16-50mm f/3.5-6.3 VR Lens.
Nikon NIKKOR Z 50-250mm f4.5-6.3 VR Lens.

Nikon D810 –

This camera is my favourite due to large number of pixels.  It is great for landscapes where it is capable of capturing a great amount of detail in the images.  I also find it excellent for nature, animal and bird photography where it has the capability of cropping images to enable the photographer to use shorter focal length lenses but enables me to get sufficient pixels on the required image.

Nikon AF-S Nikkor 14-24mm f/2.8 G ED Lens – 

An excellent ultra wide lens with superb corner to corner sharpness which I use to a large extent for ultra wide landscapes, seascapes, starscapes.  The lens is super for wide night time shooting with a tripod.

Nikon AF-S Nikkor 28mm f/1.8 G Lens –

An excellent lens with corner to corner sharpness which I mainly use for landscapes, seascapes, starscapes.

Nikon AF-S Nikkor 50mm f/1.4 G –

I do not use this lens a lot but it really comes into its own for low light photography.

Nikon AF-S NIKKOR 105mm f/2.8 G ED IF VR II Micro –

An excellent macro lens for close up photography which also serves as a great general purpose lens.

Nikon AF Nikkor 200mm f/4.0 D ED IF Micro Lens – 

An excellent super sharp macro lens for close up photography which also serves as a great general purpose lens.  This is my favourite lens for photographing shy insects close up as it provides an excellent working distance.

Nikon AF-S NIKKOR 200-500mm f/5.6E ED VR Lens – This is my most recent lens which I am finding so useful for my bird photography.

Nikon TC-20E III Teleconverter –

I do not use this teleconverter very much.

ThinkTank StreetWalker HardDrive Backpack –

This backpack makes it easy to take the required equipment into the field with a minimal amount of effort.  I have had many backpacks and this is by far the best one.

Gitzo GM5561T Carbon Monopod 25kg –

An excellent monopod for use with long and heavy telephoto lenses.

Induro Carbon 8X CT414 Tripod –

This is an excellent tripod when you need a very solid base for your camera and that is most of the time when you need a tripod.  This tripod would be equivalent to the Gitzo Series 3 tripods.

Kirk Enterprises G1 Gimbal Head –

An excellent Gimbal head which I use both on a tripod and also I really like using it with a monopod.

FLM CB-58FT Ball

head –

This is an excellent ballhead but it is quite heavy, which I use with the above Induro tripod.  My thoughts with this rather heavy ballhead is that the weight of the unit does help to keep any vibration of the camera down and my thinking is that the more weight, the less effect any vibration will have due to the dampening effect, ultimately meaning sharper images.

Nikon SB-5000 Electronic Flash –

A reasonably high powered flash to provide additional fill in light as required, particularly in dark rain forests.  I use this quite regularly for bird photography.

Demb Photojournalist Reflector –

A reflector for the above electronic flash unit.

Gossen Mastersix –

An old light meter I have but only use occasionally.

Gossen Profi-spot –

An attachment for the Gossen Mastersix.

Slik 500G Tripod –

A mini tripod too small and light for normal usage.  Good for a flash stand.

Nikon –  MC-30A – A standard push button remote release.

Nikon MC-21A 10′ Remote Extension Cord –

A cable extension for Nikon's 10-pin connector which I have further extended to many many metres for very long cable remote control of my camera with my own modifictions.
Lee Foundation Filter Holder – Used together with Lee filters for long exposures with a tripod.

ProMediaGear PBX3/PLX3x Universal L-bracket – Used on the Nikon D810 camera.

Nikon NX Studio Software – This is a great free processing software to enable you to sort your images and also do some minor processing of your images.
As far as Photo processing is concerned I use the following software packages as required:
Nikon NX Studio software for both stills and videos.
DxO PhotoLab with 

NIK software which is one of the most useful additions for the final enhancement of my images. I use this software in particular with the tonal contrast as I love this option.

Capture One 21 (For Nikon),
Affinity Photo,

Photomatix Pro,

PTGui.