View Modes – Top Toolbar

View Thumbnails – View thumbnails.
View the Thumbnail List – View thumbnails and file details
Switch to Map View

Choose  a Pin,
Add or Edit Location Data,
Add or Edit Direction Data,
Link to Shooting Locations on the map.

Now with this software you can insert GPS Data into your image file.  In Nikon NX Studio select all the images that you want the GPS location inserted into.  Nikon NX Studio will use a side car file to store the metadata information (including the GPS location information), it does not put the metadata information directly into the image file at this time.
In Nikon NX Studio, select the  "Map" section, then select the icon "View Routes on the map".  A log matching field will open as above, enabling you to "Add" the "Track Log File" ( this is the .gpx file that you have recorded from a mobile phone or other device), then click the "Log Matching" "Run" button.  But when exporting an image file from NX Studio the GPS location will be embedded into the exported image file.  If you connect to any other Apps, via the "Other Apps icon it appears that the GPS information is NOT attached to the image file forwarded to the othe Apps.
Return the map display to the home location,
Center the map on the selected location,
View the map in a Web browser,
Choose a map server or a default display position,
Search for a place.

Switch to Image Viewer.
Switch to two Image View.
Switch to four image View.
Switch to before-and-after view.
Fit Image to Window.

Fit to Screen,
Fit to Square,
Fit Short Edge to Screen,
Select 100 % Zoom,
Choose a Zoom Ratio,
Zoom Out,
Zoom In.
Right Hand Side Screen Menus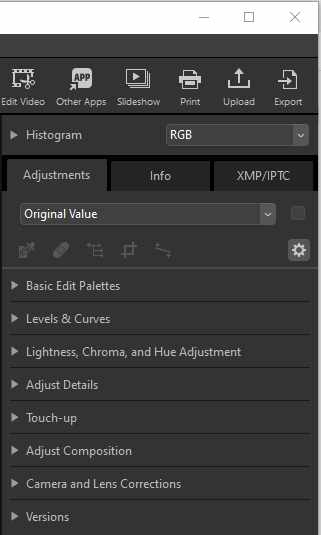 Edit Video

Trim Movie – Removing unwanted footage,
Combine Movies – Combine photos and videos,
Edit movie,
Advanced Settings,

Format,
Size,
Frame Rate.

Other Apps – Choose other apps to send the image file to for further processing.
Slideshow – Make up a slide show from your images.

Print – Send image file to printer.

Upload – Upload images to Web service.

Export – Export image and select output format and settings.

Histogram.

Adjustments:

Gray point sample tool for white balance,
Auto Retouch Brush,
Colour Control Point adjustment,
Crop Tool,
Straighten Tool,
Basic Edit Palettes,

Picture Control,
White Balance,
Exposure Comp,
Active D-Lighting,
Adjust Brightness and Colour,

Original Value,
Brightness,
Contrast,
Saturation,
Highlight Protection,
Shadow Protection,
D-Lighting HS.

Levels and Curves,

Original Value,
RGB,
Curves,
Gamma.

Lightness,Chroma, and Hue Adjustment,
Color Booster,

Original Value,
People,
Nature.

Adjust Details,

Noise Reduction,
Original Value,
Intensity,
Sharpness,
Edge Noise Reduction,
Astro Noise Reduction.

Sharpness Adjustment,

Original Value,
Sharpness,
Unsharp Mask,
Intensity,
Radius,
Threshold.

Touch-up,

Retouch Brush,
Original Value,
Brush Size.

Color Control Point,

Original Value,
Color Picker,
Size,
Brightness,
Contrast,
Saturation.

Adjust Composition,

Original Value,
Free Crop,
Show Cropping Grid.

Straighten,

Original Value,
Straighten.

Perspective Control,

Original Value,
Vertical,
Horizontal.

Camera and Lens Corrections,

Camera Corrections,

Original Value,
Color Moire Reduction,
Image Dust Off,
Auto Red-Eye.

Lens Corrrection,

Original Value,
Lateral Color Aberration,
Axial Color Aberration,
Auto Distortion Control,
Vignette Control,
Diffraction Compensation,
PF Flare Control,
Fisheye,

Lens Correction,
Color fill areas with no data.

File Camera Information.

File Info,
Camera Info,
Exposure,
Flash Info,
Image Settings,
Picture Control,
Location Info.

XMP/IPTC,

Tags,
Description,
Contact,
Content Origin,
Categories.
I have been a regular user of Nikon ViewNX-i and Nikon Capture NX-D for many years and look forward to this new software.  Basically it looks to be very similar to NX-i but with some additional refinements in video editing, still image post processing and adjustments but also includes some of the post processing features of Nikon Capture NX-D.
My main use of NX-i has been for management of my files and as a software for the first preview of images after transferring to the computer.
I can see NX Studio being a very nice replacement for the NX-i software.  Also, I have used NX-i for geotaging my images after recording .gpx files on the mobile phone and I can see NX Studio also being a very nice replacement to give this functionality.  I also see that this software can provide me with functionality to sort images as required, images can be sorted by name, date shot, date modified, file size, file type, rating, label, ISO sensitivity, shutter speed, focal length, ascending, descending.
I did find to my disappointment that the my software copy did crash when I configured the software to include sub-folders under the current folder.
In brief some of the reasons why I will continue to use this software are as follows:
The initial management and first perusal of my imaging files,
The ability to add GPS location data into the file metadata,
The ability to sort images,
The improved image processing post processing software, very similar to Nikon Capture NX-D.
There are some further articles here on Adjusting and Improving Your Images With Nikon NX Studio Software and also Some Sample Images Processed in Nikon NX Studio Software.