These remote control units from Nikon about to be released to the market, will be a very welcome accessory to the range of Nikon Digital SLR's for remote control applications. There are three units  which can be used to suit your particular camera. As I am mainly interested in nature photography, I very often have a need for a remote control unit for my Nikon cameras. Currently I use a long 30 metre custom made cable when a long remote is required and the small wireless option will be very welcome to avoid carrying a length of cable.
Some of the finer details of this remote are still somewhat unknown and I will update this blog as I get further information.
Nikon WR-T10 – Remote Transmitter
When the WR-R10 (receiver) is connected to a Nikon DSLR camera, the WR-T10 (transmitter) can be used for wireless shutter release of the camera.
Using radio frequency waves, the WR-R10 and WR-T10 can control the camera at up to 20 meters away without signal interruptions, outperforming the current Nikon infrared remote controls.
In addition, the WR-T10, can simultaneously control multiple cameras when they are each connected to a seperate WR-R10. The remote can control Live View and Video operation on recent cameras (D4, D800, D600, D3200, and D5200), and can have a pre-programmed function button on it for some cameras, as well.

Nikon WR-R10 – Remote Receiver
The WR-R10 device works with all 10-pin (requires WR-A10 WR adapter see below) or DC2 pin cameras (e.g. D3100, D3200, D5100, D5200, D7000, D300, D600, D700, D800, D3 series, and D4). The WR_R10 device can be paired with a single or multiple cameras and has a radio based communication distance of about 66 feet (20 metres). The WR-R10 de vice plugs directly into the cameras DC2 socket.

Nikon WR-A10 – Remote 10-Pin Connector Unit
With the WR-A10 unit the remote WR-R10 can plug into any Nikon camera with the standard 10-pin socket as shown.

The combined WR-A10 and WR-R10 is shown below.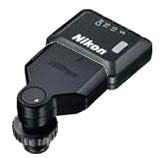 I  have not yet seen a price for these devices but lets hope they are not too expensive.