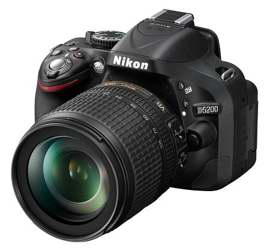 The Nikon D5100 Digital Single Lens Reflex (DSLR) Camera is an entry level camera for the developing photographer, the camera will have a capability for exceptional images. The camera has a 24.1 megapixel DX-format sensor, an ISO sensitivity range from ISO 100 to ISO 6400 and a  39-point AF system to deliver high image quality and excellent performance.
It has a vari angle monitor also offer versatility to shoot from different angles and perspectives and still see the display.
There is a choice of three body colors black, red or bronze. The camera offers high speed continuous shooting at up to 5 fps.
For movies there is a stereo microphone and it offers full HD (1920 x 1080) D-Movies with selectable 60i/50i frame rates.
There is a large, easy-to-view, 921k dot, wide viewing angle, 170°, 7.5-cm (3-in.) horizontal vari angle LCD monitor.
The camera is compatible with the WU-1a Wireless Mobile Adapter, available as an option that enables transmission of images to a smartphone or tablet PC wirelessly.
It is also compatible with the new WR-R10, WR-T10 Wireless Remote Controllers, also available as an option.
The camera provides a High Dynamic Range (HDR) option where two images are taken with one shutter release at varying exposures which  are combined to produce a single image that has a wider dynamic range, with a better contrast range and tonal gradation. The exposure differential of the two images is up to 3 EV. With HDR it is recommended that you use a tripod.
This camera is an excellent option for the developing photographer who really wants to get great image quality.
Specifications
Nikon DX format, focal length equivalent to approx. 1.5x that of lenses with FX format
Effective pixels, 24.1 million
Image sensor, 23.5 x 15.6 mm CMOS sensor
Total pixels, 24.71 million
Image size (pixels), 6000 x 4000 (Large), 4496 x 3000 (Medium), 2992 x 2000 (Small)
Shutter Type, Electronically-controlled vertical-travel focal-plane shutter
Speed, 1/4000 – 30 s in steps of 1/3 or 1/2 EV; Bulb; Time (requires optional ML-L3 remote control)
Flash sync speed, X=1/200 s; synchronizes with shutter at 1/200 s or slower
Movie

Metering, TTL exposure metering using main image sensor
Metering method, Matrix
Frame size (pixels) and frame rate,

1920 x 1080, 60i (59.94 fields/s)/ 50i (50 fields/s)*, high/normal 1920 x 1080, 30 p (progressive)/25p/24p, high/normal 1280 x 720, 60p/50p, high/normal 640 x 424, 30p/25p, high/normal Frame rates of 30p (actual frame rate 29.97 fps), 60i, and 60p (actual frame rate 59.94 fps) are available when NTSC is selected for video mode. 25p, 50i, and 50p are available when PAL is selected for video mode. Actual frame rate when 24p is selected is 23.976 fps. * Sensor output is about 60 or 50 fps.

File format, MOV

ISO sensitivity, ISO 200-6400; can also be set to approx. 0.3, 0.7, 1, or 2 EV (ISO 25600 equivalent) above ISO 6400
Dimensions (W x H x D), 129.0 x 98.0 x 78.0 mm (5.1 x 3.9 x 3.1 in.)
Weight, 555 g (1 lb 3.6 oz) with battery and memory card but without body cap; approx. 505 g/1 lb 1.8 oz (camera body only)
Temperature, 0 °C-40 °C (+32 °F-104 °F)
Humidity, 85% or less (no condensation).