Yes there is a relatively easy way to geotag  your Nikon image files. Until recently I did not realise that Nikon View NX had the capability to imprint the GPS coordinates on each image file in a bulk process. However there are some important steps to go through.
There are many different GPS add on devices which plug directly in to your camera to input the GPS coordinates, but it generally involves a cost of several hundred dollars and also the extra bulk of the added device and the cable to the camera.
I already possess a portable GPS system in my motor vehicle and thought, why should I purchase another GPS for my camera. My vehicle GPS is a Garmin Nuvi and it is easy to download the relevant travel log file from the GPS unit using a USB cable. In the case of my Nuvi the file required is a .gpx file which is compatible with Nikon View NX.
Before capturing your images it is important to ensure that the camera clock is synchronised to your GPS unit clock. Most GPS units will automatically get their time from the satellite, so set you camera clock to the same time as the GPS unit.
When you go out photographing take your camera and GPS unit with you, with their time synchronised, in my case I carry the GPS unit in my backpack.
When post processing I use Nikon View NX and all the following GPS files;
are compatible and can thus be processed by View NX.
When you are using View NX, at the bottom of the View NX screen, with the image viewer selected, you can select all of the image files that you wish to have the GPS coordinates applied to.
After you have loaded Nikon View NX, across the top of the screen there are various selections. Selact Log Matching.

When the Log Matching screen comes up you will see the following: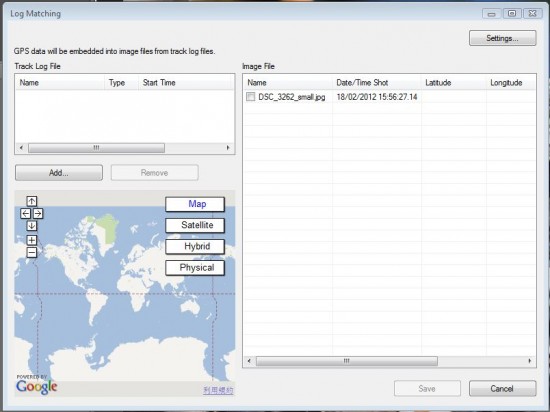 Select Add to add the file from your GPS device, in my case it was the .gpx file. Then press save to save the specific coordinates to each of your image files. Job done.
What essentially happens, is that the View NX software checks the time each image was captured and then checks from the GPS data where you were at that particular time and stamps each image file with the location.
It should be noted that the View NX software is a free download from Nikon.
Many photo sites such as Flickr, which I use, will enable you to include the geotag and make it visible with the image on the Flickr site.
I do not have an iPhone, but since the iPhone has a built in GPS, I  believe you should also be able to download your GPS locations from an iPhone and import the information into Nikon View NX.
Some updated information on this topic can be found here.