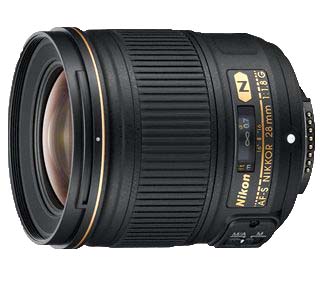 I love using fixed focal length lenses, as in my opinion they appear to have more clarity and give a sharper image. One of the main advantages is also the lower apertures, in this case f/1.8 which will enable the photographer to achieve a really thin depth of field for selective focus.
Up to this time, the only AF-S lenses for Nikon FX users were the 35mm f/1.4 and the 24mm f/1.4 at a very high cost premium, so this lens will be very welcome at a much lower cost.
This lens at 28mm, will have minimum distortion compared to some of the wider fixed focal length lenses and zoom lenses and consequently will be excellent for panorama type photography. Many of the wider lenses down to 10mm, 14mm and 16mm have lots of distortion at those focal lengths and I am a great believer in constructing panoramas using a wider lens such as this 28mm lens. For landscape work I rarely use a lens wider than 24mm or 28mm and where I do require wide I generally construct a panorama, it give a much more pleasing image with less distortion.
I really like the focal lengths around 24mm and 28mm and I can really see myself getting this lens in the near future.
Nikon are now producing an excellent range of  f/1.8 G  AF-S lenses for the FX and DX camera users. Some are listed as follows:
28mm f/1.8 lens
35mm f/1.8 DX lens
50mm f/1.8 lens
85mm f/1.8 lens
There are also rumors of some more Nikon  f/1.8 lenses being produced in the near future.
According to Nikon's description, this lens is a wide angle lens that will match the high pixel count of the newer digital SLR cameras. The recent D800 has 36 MPixels and each new camera seems to gain more and more pixels with each new release.
This new lens has Nikon's Nano Crystal Coat which does effectively reduces ghost and flare within the lens. It has a large maximum aperture of f/1.8 for low light shooting and also to give a very nice selective focus.
The lens incorporates a Silent Wave Motor (SWM) to give a quiet auto focus operation. There are two focus modes available, M/A (autofocus with manual override) and M (manual focus) for complete manual focussing.
The lens should give a beautiful image blur, bokeh.
Take a look here for some sample images from this 28mm f/1.8 lens on Flickr.
For details on the range of Nikon lenses take a look at the Nikon lens review page.

Specification
Focal length, 28 mm
Maximum aperture, f/1.8
Minimum aperture, f/16
Lens construction, 11 elements in 9 groups
2 aspherical lens elements
Lens elements with Nano-Crystal coatings
Angle of view, Nikon film SLR and FX-format D-SLR cameras: 75°, Nikon DX format D-SLR cameras: 53°
Focusing, Rear Focusing (RF) System
Silent Wave Motor
Separate focus ring for manual focus
Minimum focus distance, 0.25 m, 0.82 ft
Maximum reproduction ratio, approx. 0.22x
No. of diaphragm blades, 7 (rounded diaphragm opening)
Filter attachment size, 67 mm (P=0.75 mm)
Dimensions, 73 mm maximum diameter, 80.5 mm
Weight, 330 g, 11.6 oz.