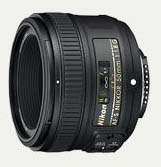 This is the new generation, 50mm f/1.8 lens. I far prefer this lens with the Manual/Auto focus switch compared to the older 50mm f/1.8 D lens which needs to be switched between auto/manual focus on the camera body. In addition this lens will be suitable for the cheaper DX camera bodies, which have no focussing motor in the camera body.
This lens is a wonderful compact lens to add to your FX or DX camera to give a very small package for travelling. Really, there is very little difference between an f/1.4 aperture lens and this f/1.8 lens and the cost difference is very significant. This type of lens is very small when compared to the larger zoom lenses like the 24-70mm f/2.8 zoom and superb for travelling. I doubt if you can go wrong with this lens unless you really do need the f/1.4 model.
This is a great lens for low light and night photography with its f/1.8 aperture.
This is a fast, 50mm lens with a maximum aperture of f/1.8.
It is essentially a newly designed lens, using an aspherical lens element, together with a Silent Wave Motor to achieve quiet and fast auto focus.
Two focus modes are available via a switch on the lens, M/A and M manual focus.
This lens will focus on all entry level and professional Nikon bodies, even the bodies without the built in motor in the camera.
There are 7 elements in 6 groups, including one aspherical element.
The lens will be capable of being used on both FX and DX bodies.
The 50mm lens is a great general purpose lens and represents quite closely the angle of view of the human eye. In the days of film the 50mm lens was the standard lens for use with 35mm cameras and it is still very applicable today.
It should be noted that the is also a D version available of the 50mm lens, there is an evaluation of this lens here.
Purchase your Nikon Digital SLR Lenses here at B&H Photo Video.
Specifications:
Focal length, 50mm,
Aperture range, f/1.8 to  f/16,
Lens construction, 7 elements in 6 groups, with one aspherical lens element,
Angle of view, 47° with FX, 31°30′ with DX format,
Minimum focussing distance, 0.45 metres / 1.48 feet,
Maximum reproduction ratio, 0.15 times,
Number of diaphragm blades, 7 rounded blades,
Filter size, 58mm,
Dimensions, 72 x 52.5 mm, 2.8 x 2.1 inche,
Weight 185 grams, 6.6 oz,
Supplied accessories, 58mm snap on Lens Cap LC-58, Rear Cap LF-4, Bayonet Hood HB-47, Flexible Lens Pouch CL-1013.