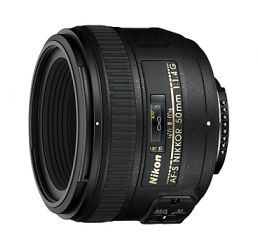 This lens is an AF-S update of the previously produced 50mm lenses, the autofocus with this lens is not as fast as some of the f/2.8 zooms but is quite adequate.
The image quality with this lens is very good even at f/1.4. Colors are represented vividly saturated and very sharp. There is no nano coating with this lens, however it handles back lighting very well with minimal ghosting and flare. This lens is not a massive advance from the previous 50mm lenses but has the main advantage of AF-S focussing with the built in motor for some of the lower level cameras which do not have built in motors.
Two focus modes are available with this f/1.4 aperture lens, M/A, manual priority autofocus and M, manual focus. There is a natural bokeh produced, due to the nine blade rounded diaphram of the lens.
Although all lens groups shift during focusing, the lens barrel length does not change. This lens is a great reasonably priced lens for normal photography in dull light due to the large aperture.

Lens specifications:
Lens construction 8  elements, 7 groups,
Picture Angle, FX 46°,
Picture Angle, DX 31° 30′,
F stop range, 1.4 to 16,
Closest focusing distance 0.45 metres,
Maximum reproduction ratio 0.15 times,
Filter size 58mm
Lens hood, HB-47,
Lens case, CL-1013,
Dimensions 73.5 x 54 mm,
Weight 280 grams.