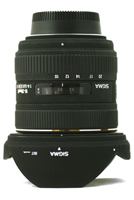 This Sigma lens is designed specifically for the Nikon DX range of cameras. These cameras have a smaller sensor than the FX range and consequently this lens has a reduced image circle.
Sigma Lens Terminology
EX lens – The exterior of the lens is finished to denote the superior build and optical quality

DC lens – Special lenses designed so that the image circle matches the smaller size of the image sensor of digital SLR cameras (DX for Nikon)

HSM lens – The lens focussing is drinen by a hypersonic motor for fast focussing.
The Hyper Sonic Motor (HSM) allows for fast autofocus speed and quiet shooting and is capable of manual focussing operation. The lens comprises three aspherical lens elements which offers excellent correction for any distortion. Three Special Low Dispersion (SLD) glass elements are used within the lens to give compensation for color aberrations. An internal focusing system allows for the convenient use of a polarizing filter for creative effects & improves the optical performance of the lens at all distances. The front element of the lens does not rotate during focussing or zooming.
This lens offers an ultra wide angke view with the DX cameras, I have used this lens for quite a few years and have found its performance to excellent over its zoom range of 10-20mm, on an FX camera this zoom range is equivalent to 15-30mm due to the DX camera crop factor.
There are quite a few zoom lenses to choose from for Nikon DX cameras to achieve a wide view and some of them are outlined as follows:
Sigma (Nikon Mount) 10-20mm f/4-5.6 EX DC HSM Lens – Ultra wide angle, DX zoom.

10-24mm f/3.5-4.5G ED AF-S DX Lens

 – Ultra wide angle , DX zoom.

12-24mm f/4G IF ED AF-S DX Lens

 – Wide angle, constant aperture, DX zoom.

16-85mm f/3.5-5.6G ED VR AF-S DX Lens

 – Normal focal length, DX zoom.

17-55mm f/2.8G IF ED AF-S DX Lens

 – Normal focal length, DX f/2.8, constant aperture zoom.

18-200mm f/3.5-5.6G ED VR II AF-S DX Lens

 – Wide range focal length, DX zoom.

55-300mm f/4.5-5.6G ED VR AF-S DX Lens

 – Wide focal length range, DX zoom.
There are many samples from this lens on
Flickr
and also some below.
The lens is constructed with 14 elements in 10 groups and has an angle of view 102.4-63.8 degrees, there are 6 aperture diaphragm blades and the lens has a maximum aperture of f/22.
The lens minimum focusing distance is 24 cm or 9.4 inches, and the filter size is 77mm which is the same as most of Nikons professional lenses. The maximum magnification factor is 0.15 times.
Physically the lens is (Diameter x Length) 83.5 x 81 mm or 3.3 x 3.2 inches with a weight of 470 grams or 16.4 ounces.
I have used this lens for quite a few years mainly with Nikon D2H and D300s cameras.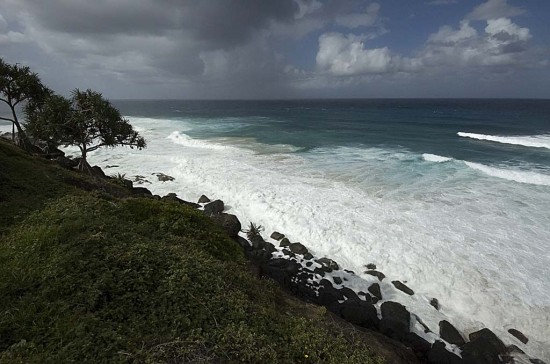 The image above was captured with the Sigma 10-20mm lens at 10mm, also the image below has been captured with the Sigma 10-20mm lens but at 14mm. For landscape photography when there are wide expansive scenes the Sigma 10-20mm is an exceptional lens to capture the beauty of the land. Care needs to be taken when using wide lenses such as this as generally wide  images can be more interesting if some feature is included in the foreground.
A wide lens such as this is ideal for landscape photography, building interiors and also it can be used for group pictures. It is great for working with close foreground subjects, the lens features a minimum focusing distance of 24 cm or 9.4 inches, at all focal lengths ensuring great creative potential. This type of wide angle lens also allows for a great depth of field, to give a large depth of sharpness in landscape photographs.