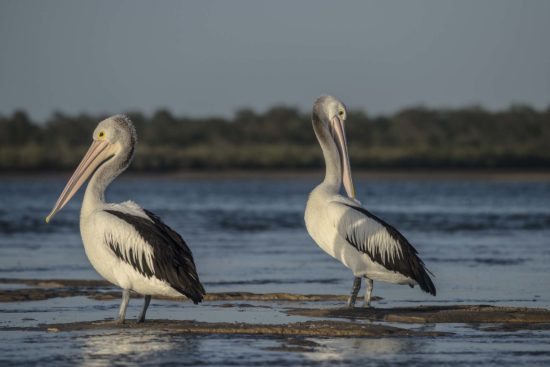 The image above is of a couple of pelicans captured from a kayak.
I have had several queries about my web site design, how it is constructed and arranged.
The Blogging and Gallery software is quite simple to implement and use, being standard WordPress software. There are many options available with WordPress to select alternative themes to differentiate the look of your web site from other sites.
Basically there are four main parts of the content sections of WordPress as follows:
Posts – This is the section where the readers see the regular blogs in chronological order.
Pages – This section is where other miscellaneous pages are placed, which do not appear in the post blog section but are general information pages such as the About page. I also place the Galleries in the Pages section. Each Gallery index page is simply a table of four colums with the thumb nail images inserted in each cell with links to the individual Galleries.
Media Library- The media area is the WordPress area where all the images are hosted. They are not hosted on a seperate site but with the rest of the WordPress content. If required the images can be hosted on a seperate site.
Galleries – The formation of the Galleries are a standard WordPress feature in the current versions of WordPress. When forming a Page the images are uploaded and there is an option after uploading the images to form the images  into Galleries with various column widths. Also captions and image titles can be added. There are available various plug-in options with WordPress to enhance the galleries, however I find the standard WordPress options with the slide shows to be quite satisfactory. Also the images in each individual post can be viewed as a gallery.
Having a Blog is a great mechanism to communicate with the general public and with other photographers which I find quite refreshing and a great means of getting new ideas.