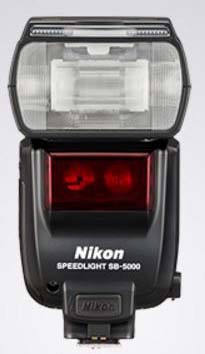 The Nikon SB-5000 electronic flash unit is a new generation flash introduced with the Nikon D5 and D500 digital cameras.
I have now been using this flash for several months now and I find it a wonderful addition to my photographic accessories.  The zoom setting on this flash has settings for telephoto lens up to 200mm and I now use this flash extensively with my 200-500mm Nikon zoom lens.
The flash can be controlled via radio signals from the camera with an attachment rather than from the master flash unit.
The Speedlight is capable of firing off up to 120 flashes in a single burst, delivering powerful luminosity and ultimate control. It works seamlessly with the Nikon Creative Lighting System (CLS), offering the radio-controlled Advanced Wireless Lighting (AWL) that make multiple flash setup so easy. With its compact size and all-new intuitive control panel, the SB-5000 is indispensable for those who desire the best lighting for their photography.
With the new radio-wave controls, the flash no longer requires a direct line-of-sight for triggering other compatible flash units. Expand your creative lighting possibilities by attaching the WR-R10 Wireless Remote Controller, allowing you to control up to 6 groups (A-F), totaling up to 18 SB-5000 remote flash units.
This flash features a cooling system, the SB-5000 is designed to reduce the downtime between each take by actively suppressing the heat generated within the flash head. This enables the SB-5000 to deliver a performance of up to 120 consecutive flashes at 5-second intervals. Choose to activate this feature via a setting in the setup menu, and get the freedom of capturing images without waiting for the flash to cool down.
Measuring approximately 73mm (width) by 137mm (height) by 103.5mm (depth), the SB-5000 boasts a clever design that maximises every inch of its compact size. Frequently used functions such as Flash Mode, Zoom Head Position, and Flash Compensation Value / Flash Output Level in Manual Flash Mode are now accessible via the rotary multi selector, leaving more room for a wider LCD screen.
The SB-5000 provides a guide number of 34.5/113 at 35 mm or 55/180 at 200 mm (m/ft, ISO 100, 23°C, FX format, standard illumination pattern), number of flashes of 150 or more (alkaline), and minimum recycling time of approx. 2.6 s (alkaline) or 1.8 s (rechargeable Ni-MH).