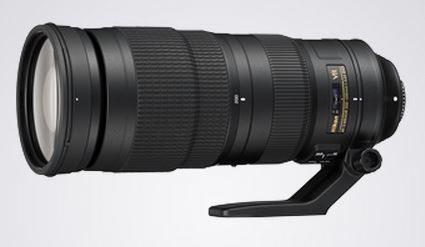 This new Nikkor 200-500mm f/5.6E ED VR AF-S lens is a lens of which I am very keen to see more of. As at the time of writing this blog, it is over a month until the release date of the lens. I do a lot off bird and animal photography with my 300mm f/4 D AF-S lens and the idea of an extra 200mm of focal length to 500mm is very appealing, but the disadvantage is that the lens is at F/5.6 compared to f/4.
Until now, the possibility of getting to 500mm compared to my 300mm lens has been very expensive, many thousands of dollars and out of my budget, but the idea of the 200-500mm lens is very appealing to me at its announced release price. I can see one filling my camera bag in the near future.
I do lots of photography from my kayak and the size and weight of the 200-500mm f/5.6 lens is looking very good for this type of photography.
This lens also has the recently introduced electronic aperture E interface and it has been stated as being able to work with Nikon's recently introduced  TC-14E III teleconverter to give an equivalent lens of 280-700mm at f/8. Using this teleconverter would require a reasonably bright day to be useful and the VR of this lens should help here.
Technical Specifications
Type, F mount, Type E, AF-S lens with built in CPU and F mount,
Format, FX/35mm,
Focal length, 200 – 500 mm,
Maximum aperture, f/ 5.6,
Minimum aperture, f/ 32,
Lens construction, 19 elements in 12 groups, including 3 ED elements,
Angle of view, Nikon FX format D-SLR cameras: 12° 20′ to 5° 00′, Nikon DX-format D-SLR cameras: 8° 00′ to 3° 10′,
Minimum focus distance, 2.2 m ( 7.22 ft) from focal plane,
VR (Vibration Reduction) image stabilization,
Number of diaphragm blades, 9  rounded diaphragm opening,
Diaphragm, automatic electronic aperture control,
Metering, full aperture,
Filter size, 95 mm (P = 1.0 mm),
Dimensions, 108 mm maximum diameter x 267.5 mm (distance from camera lens mount flange),
Weight, 2300 g (5 lb 1.2 oz), including tripod collar; Approx. 2090 g (4 lb 9.8 oz) without tripod collar,
Autofocus, AF-S Silent Wave Motor,
Internal focusing,
Focus modes, Manual , Manual/Auto, Nikon Internal Focusing (IF) System with autofocus controlled by Silent Wave Motor and separate focus ring for manual focus,
Focus limit switch, FULL, 8 to 6 m,
Focus distance indicator,
Focal length scale, graduated in millimeters (200, 300, 400, 500),
Manual zoom using independent zoom ring.
Supplied Accessories
95 mm snap on Front Lens Cap, LC-95,
Rear Lens Cap, LF-4,
Bayonet Hood, HB-71,
Lens Case, CL-1434.