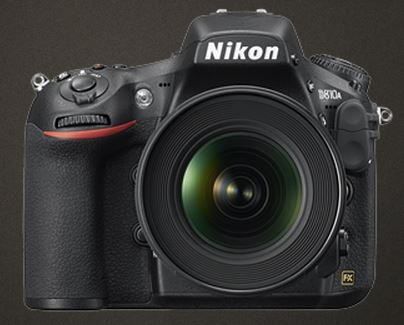 The Nikon D810A is Nikon's first FX format Digital SLR which has been designed exclusively for astro-photography. It should be noted that this camera is not recommended for general photography.
The camera is very similar to the previous Nikon D810 camera with an impressive 36.3 megapixel image sensor to shoot in ultra high definition. The camera features capabilities to capture nebulae that emit H-alpha wavelength in red. The camera is also enhanced with additional functions designed for astro-photography, such as the long exposure, Manual, M mode and live view preview function to better capture the beauty of the night sky.
Some of the features of this camera are as follows:
Captures H-alpha wavelength nebulae.
Equipped with an FX format CMOS image sensor without an optical low-pass filter.
It comes with an optical IR cutoff filter with characteristics in which the transmission of H-alpha spectral line has been increased by approximately four times from a typical DSLR.
The camera reproduces vivid reds of nebulae and constellations. This allows you to take remarkably detailed images of nebulae and other celestial objects in rich vibrant colours with a high signal-to-noise ratio that are true to the eye.
The camera is built specifically for astrophotography.
The ISO range is 200 to 12,800 (expandable from 100 to 51,200).
The D810A is optimised with astrophotography functions that require minimal post processing configuration.
The long exposure M mode allows for additional shutter speeds from 30 seconds up to 900 seconds.
The live view preview function displays a brighter, clearer preview image. Take a closer look at the stars with the ability to enlarge live view images up to approximately 23 times to help you better compose and focus your shots.
The electronic front curtain shutter feature available under the Mirror-up shooting function reduces vibration of internal mechanics and mirror movement, retaining pixel precise sharpness in long exposure shots.
The limit for continuous shooting in CH or CL release mode with a shutter speed of 4 seconds or slower has also been infinitely extended. This allows you to fully capture beautiful star and light trails for as long as your memory card capacity and battery permit.
The D810A comes in a robust, weather resistant body, complete with a comprehensive seal against dust and water droplets, and a grip that sits comfortably in your hand.
The shutter is newly designed for accuracy and durability, and tested for 200,000 shutter cycles, ensuring improved camera longevity and years of trouble-free astro-photography.
Nebulae that emit with an H-alpha wavelength can be captured beautifully with the enhanced transmission characteristics of the optical filter.
When you shoot photos using light sources that have a significant amount of near infrared wavelengths or general subjects that feature high reflectance at near infrared wavelengths using the D810A, the resulting image may be much more reddish than the actual color. Because appropriate color reproduction cannot be obtained, this model is not recommended for general photography.
The equipment I use for my photography is mainly as follows: