The new AF-S Nikkor 300mm f/4E PF ED VR lens is a completely  new innovative optical technology, offering unrivaled physical size in the world's smallest and lightest 300mm autofocus lens.
I have used the previous version of this lens for many years and absolutely love its performance, it is very sharp and reasonably fast focusing.I have also used it successfully with the Nikon teleconverters especially the TC-20E III.
This new version lens uses Nikon's proprietary Phase Fresnel (PF) lens technology for superb sharpness and clarity with virtually no chromatic aberration or ghosting.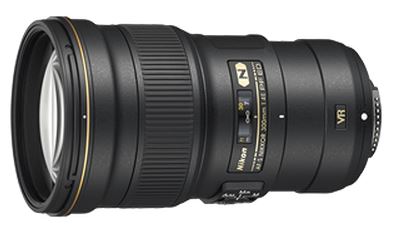 This lens is ultra compact and an extremely light design, I am really looking forward to trying this lens and seeing the resulting images. It appears to be around 2/3 the size of the older 300mm f/4 AF-S and is much lighter with the new technology construction.
When attached to a DX format SLR, the angle of view is equivalent to that of a lens with a focal length of 450 mm in FX, 35mm format.
The following teleconverters are compatible with this lens, TC-14E III, TC-17E II and the TC-20E III. With the latter two teleconverters autofocus is available only with single servo AF (AF-S) and then only when the lens is mounted on a camera that supports f/8.
This lens uses a newly developed PF (Phase Fresnel) lens for a compact and light body.
Employing the PF (Phase Fresnel) lens, is a first for a NIKKOR lens, it results in an outstandingly compact and light body. Compared to the current AF-S NIKKOR 300mm f/4D IF-ED, weight is reduced by approx. 545 g, with length reduced by around 75 mm and diameter by approx. 1 mm.
The new PF (Phase Fresnel) lens, developed by Nikon, compensates for chromatic aberration utilizing the photo diffraction phenomenon*. It provides superior chromatic aberration compensation performance when combined with a normal glass lens.
With a normal interchangeable lens the image forms on an imaging plane, using the photorefractive phenomenon. The degree of light refraction differs depending on the color (wavelength), and image formation is performed in the order of blue (B), green (G), and red (R) starting with the portion near the lens. The color deviation referred to as chromatic aberration induces color bleeding, resulting in a deterioration of observed or captured images.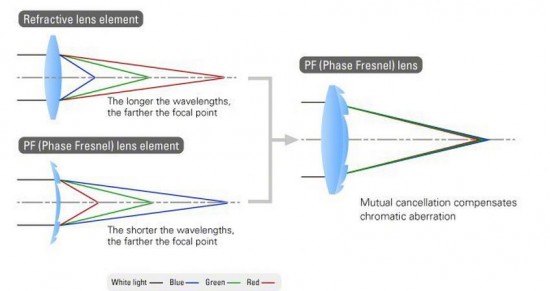 With PF (Phase Fresnel) lenses, on the other hand, image formation is performed in the order of red (R), green (G), and blue (B) starting with the portion near the lens. By combining the PF (Phase Fresnel) lens with a refractive lens, chromatic aberration can be effectively compensated.
Due to the characteristics of a PF (Phase Fresnel) lens that utilizes the photo diffraction phenomenon, when there is a strong light source within the frame or when light enters the lens from outside of the frame, ring-shaped colored flare may occur according to shooting conditions. This phenomenon can be minimized with "PF Flare Control" included in Capture NX-D.
Technical Specifications
Fmount
E AF-S lens with built-in CPU
Format, FX/35mm
Focal length, 300mm
Maximum aperture, f/4
Minimum aperture f/32
16 elements in, 10 groups, (including 1 ED lens element, 1 PF(Phase Fresnel) element, and lens elements with Nano-Crystal or fluorine coatings)
Angle of view, Nikon FX-format D-SLR cameras: 8° 10′, Nikon DX-format D-SLR cameras: 5° 20′
VR (Vibration Reduction), image stabilization
9 rounded diaphram blades
Nano Crystal Coat
Fluorine coat
Diaphragm, Automatic electronic aperture control
Full aperture metering
Filter size, 77mm, P = 0.75 mm
Dimensions  89 mm maximum diameter  147.5 mm
Weight, 755g, 26.6 oz.
Autofocus
AF-S (Silent Wave Motor)
Internal focusing
Focus modes,  Manual, Manual/Auto, Auto/Manual
Focus limit switch, Two positions: FULL (8 – 1.4 m) and 8 – 3 m
Focus distance indicator
77 mm snap-on Front Lens Cap, LC-77
Rear Lens Cap, LF-4
Bayonet Hood, HB-73
Lens Case, CL-M3
G-type lens.
The following B&H listing covers the Nikon range of super  telephoto lenses: