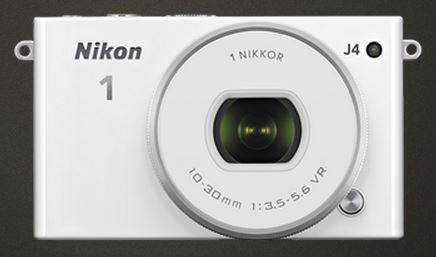 The new Niklon 1 J4 is a new iteration of the Nikon mirrorless cameras. It may be the ideal camera for photographers who require a smaller but high performing camera. This camera has an extremely high shooting speed of 20 frames per second with autofocus that is faster than even a D-SLR camera.
It will give very high quality shots with the J4's newly developed 18.4 megapixel CX-format CMOS sensor and EXPEED 4A image-processing engine. It has a capability of clearer photos at night with a wide range of ISO sensitivities ranging from ISO 160 to 6400 in Auto mode. The J4 has also been designed without an Optical Low Pass Filter (OLPF) sensor to improve the detail and precision of the images you capture.
The J4 is one of the smallest and lightest cameras in its class, weighing only 232g (including battery and microSD memory card) and measuring 99.5mm (width) x 60mm (height) x 28.5mm (depth).
Capture the action and drama of life with the J4's superior continuous AF performance and ability to shoot Full HD movies at 1080/60p.
Use the SB-N10 Underwater Speedlight with 4 flash modes to ensure you are never in the dark when it comes to superb pictures of the deep blue sea.
Specifications
Lens mount Nikon 1 mount
Effective angle of view 2.7x lens focal length (35 mm format equivalent)
Image sensor format CX
Image sensor type CMOS
Sensor size 13.2mm, x8.8mm
Effective pixels 18.4million
Image size (pixels). Still images taken in auto, best moment capture, and all creative modes other than easy panorama (aspect ratio 3 : 2), (L)5232, x3488, (M)3920, x2616, (S)2608, x1744, Still images taken in normal panorama mode with camera panned horizontally (aspect ratio 120 : 23) 4800 x 920. Still images taken in normal panorama mode with camera panned vertically (aspect ratio 8 : 25) 1536 x 4800. Still images taken in wide panorama mode with camera panned horizontally (aspect ratio 240 : 23) 9600 x 920. Still images taken in wide panorama mode with camera panned vertically (aspect ratio 4 : 25) 1536 x 9600. Still images taken during movie recording (aspect ratio 3 : 2) 5232 x 3488 (1080/60p, 1080/30p) 1472 x 984 (720/60p, 720/30p). Motion Snapshots (photo portion, aspect ratio 16 : 9) 5232 x 2936.
File format NEF (RAW): 12-bit, compressed, JPEG: JPEG-Baseline compliant with fine (approx. 1 : 4), normal (approx. 1 : 8) compression, NEF (RAW) + JPEG: Single photograph recorded in both NEF (RAW) and JPEG formats
Picture Control system Standard, Neutral, Vivid, Monochrome, Portrait, Landscape, ; selected Picture Control can be modified; storage for custom Picture Controls
Media microSD (micro Secure Digital), microSDHC, microSDXC
Card slot single
File system DCF 2.0, DPOF, Exif 2.3, PictBridge
Depth-of-field preview
Shooting modes auto; creative, with a choice of the following options: P, S, A, M, creative palette, HDR, easy panorama, soft, miniature effect, selective color, cross process, and toy camera effect; best moment capture (Active Selection, slow view and Smart Photo Selector); advanced movie (HD movie, slow motion, jump cut, fast motion and 4-second movie), Motion Snapshot
Type Electronic shutter Speed 1/16,000to, 30s, in steps of 1/3 EV; Bulb Note: Bulb ends automatically after approximately 2 minutes
Flash sync speed Synchronizes with shutter at X=1/60s, or slowerModes S (single frame), Continuous, Self-timer
Frame advance rate Approx. 5, 10, 20, 30, or 60 fps
Self-timer 2 s, 10 s
Metering system TTL metering using image sensor
Metering method Matrix Center-weighted: Meters 4.5 mm circle in center of frame Spot: Meters 2 mm circle centered on selected focus area
Mode P programmed auto with flexible program; S shutter-priority auto; A aperture-priority auto; M manual; scene auto selector
Exposure compensation –3–+3EV, in steps of1/3EV
ISO Sensitivity 200 to 12800, in steps of 1EV, ISO 160; 6400(NR); 12800 (NR); auto ISO sensitivity control (ISO 160–6400, 160–3200, 160–800) available (user controlled in P, S, A, and M modes)
Active D-Lighting On, off
Built in flash
Guide number 5/16 (m/ft, ISO 100, 20 °C/68 °F; at ISO 160, Guide Number is approx. 6.3/20.7)
File format MOV
Video compression H.264/MPEG-4 Advanced Video Coding
Audio recording format PCM
Audio recording device Built-in stereo microphone; sensitivity adjustable
Maximum recording time Auto mode: 20 minutes Creative mode: 20 minutes HD movie 20: minutes Slow motion: 3 seconds Fast motion: 20 minutes Jump cut: 20 minutes 4-second movie: 4 seconds
Monitor size 7.5cm (3in.) diagonal
slide show, histogram display, auto image rotation, and rating option
USB Hi-Speed USB equivalent
HDMI output Type D HDMI connector
One rechargeable Li-ion EN-EL22 battery
AC adapter EH-5b AC adapter; requires EP-5E power connector (available separately)
Tripod socket 1/4 in.
Dimensions (WxHxD) 99.5, x60.0, x28.5mm (3.9, x2.4, x1.1in.), excluding projections
Weight 32g (8.2), with battery and memory card but without body cap; approx. 192 g (6.8 oz), camera body only
Operating environment Temperature: 0°C–40°C (+32° F–104°F) Humidity: 85% or less (no condensation)
Supplied accessories
body cap,
strap,
USB cable,
ViewNX 2 CD,
EN-EL22 rechargeable Li-ion battery (with terminal cover),
MH-29 battery charger.