For anyone that follows my Blog, it should be very evident that I really love photographing birds. One of the  main secrets to good bird photography is generally long lens technique, but in the case of these peacocks, long lens technique was not quite so important as the peacocks were very quiet and I was able to approach them very closely.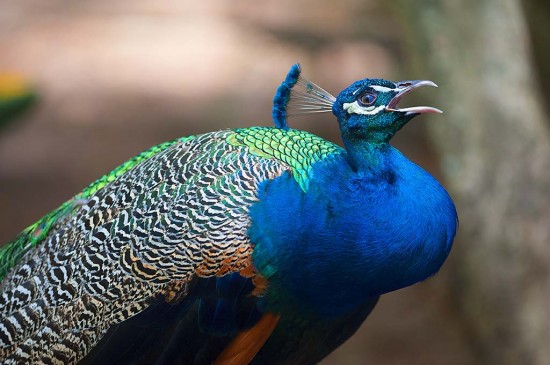 For the first image above, of the male bird was calling for his female mate and I used a Nikon 200mm, f/4, D, Micro lens and my Nikon D700 camera was used for both images. To capture the male bird calling, I wanted to get quite close to feature the head of the peacock and that was the reason for selecting the 200 Micro lens.
With this photo sequence I really wanted to tell a story of the male peacock calling for his mate and then capture the two peacocks in a dance together, with both the male and female birds in the frame together. It is very interesting to watch the behaviour of birds such as these two peacocks, how the male bird displays and fans out his tail and then vibrates all his tail feathers so that he attracts the attention of the female bird.
For the second image of this sequence with the pair of birds together, I used the Nikon 105mm, f/2.8, VR, Micro lens. For much of my photography I am really quite keen on both of these lenses as they form a great combination for general nature photography. Both lenses have excellent image quality and are very good at both close up and also at distance.
For this series of images I also used my Gitzo GM5560T Monopod. Monopods are always great to help stabilise you camera to achieve much sharper images.
The equipment I currently use for my photography is as follows: