The new D3300 camera has now been released and some details are as follows: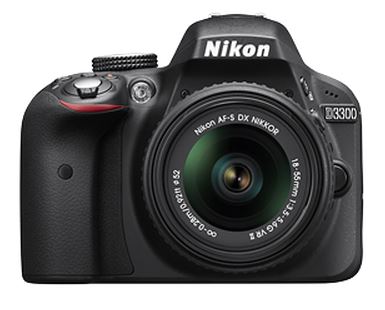 This camera is aimed more at the new photographer just getting into digital SLR photography. It has a high resolution 24.2 megapixel DX-format CMOS sensor with the optical low-pass filter removed to give high resolution and includes the latest EXPEED 4 image processing system.
It is really the next step up from point and shoot photography. It features a 5 frames-per-second (fps)  high speed continuous shooting mode and an ISO range of 100 to 12800.
Film makers can also take advantage of the smooth Full HD movie recording with 1080/60p support.
The D3300 also features 13 special effect modes and various retouch menu options to extend the enjoyment of your photographic expression. Beginner photographers will also appreciate the camera's Guide Mode which provides step by step instructions for capturing great images.
This camera is probably the ideal camera for photographers who wish to stay with the smaller DX format which is considerably cheaper that the larger Nikon FX format.
Specifications
Effective angle of view 1.5x that of lenses with FX format angle of view

Effective pixels 24.2 million

Image sensor 23.5 x 15.6 mm CMOS sensor

Image size (pixels) Easy panorama mode: 4800 x 1080 (normal, horizontal pan) 1632 x 4800 (normal, vertical pan) 9600 x 1080 (wide, horizontal pan) 1632 x 9600 (wide, vertical pan) Other modes: 6000 x 4000 (Large) 4496 x 3000 (Medium) 2992 x 2000 (Small)
Media SD (Secure Digital) and UHS-I compliant SDHC and SDXC memory cards
Shutter speed 1/4000 – 30 s in steps of 1/3 EV; Bulb; Time

Shutter flash sync speed X=1/200 s; synchronizes with shutter at 1/200 s or slower

Frame advance rate Up to 5 fps

Built in flash Auto, portrait, child, close up, night portrait, super vivid, pop, photo illustration, color sketch, toy camera effect: Auto flash with auto pop-up P, S, A, M: Manual pop-up with button release

Guide Number, 12/39, 13/43 with manual flash (m/ft, ISO 100, 20°C/68°F)

Video – Frame size (pixels) and frame rate 1920 x 1080, 60p (progressive)/50p/30p/25p/24p, high/normal 1280 x 720, 60p/50p, high/normal 640 x 424, 30p/25p, high/normal Frame rates of 30p (actual frame rate 29.97 fps) and 60p (actual frame rate 59.94 fps) are available when NTSC is selected for video mode. 25p and 50p are available when PAL is selected for video mode. Actual frame rate when 24p is selected is 23.976 fps.

File format MOV

Dimensions (W x H x D), 124 x 98 x 75.5 mm (4.9 x 3.9 x 3 in.)

Weight, 460 g (1 lb 0.2 oz) with battery and memory card but without body cap; approx. 410 g/14.5 oz (camera body only)

Temperature 0 – 40°C (+32 – 104°F)

Humidity Less than 85% (no condensation)
The range of Nikon DX cameras.