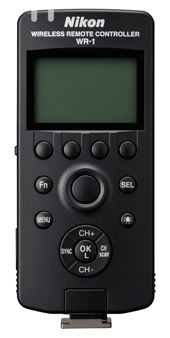 The WR-1 Wireless Remote Controller is a very interesting new release from Nikon for any photographers interested in long range remote photography or synchronised operation of multiple cameras.
The device is effectively a  transceiver, meaning that it can either be used as a transmitter or a receiver depending on how they are configured, two devices will be required for full functionality.
Some time ago I did a blog on the Nikon WR-T10, WR-R10, WR-A10 Remote Control Units which have a range of up to 20 meters, this newly released WR-1 is basically a further development of these devices with much more functionality but with a range of 120 metres or 394 feet and it appears that all these devices can work together as required as a transmitter or receiver
The WR-1, Wireless Remote Controller will allow you to wirelessly control your camera from up to 120m. It can be used with multiple cameras to shoot simultaneously or at timed intervals. The WR-1 units will also allow the photographer to divide cameras into groups and control each group separately.
These devices use wireless technology and enable remote shooting even if trees or other obstacles stand in the way or if the camera is not in direct line of sight.
These devices also enable auto focus by the half press of the shutter release button remotely and it also enables continuous shooting by pressing the shutter release button longer. It can also be used for movie recording and quiet shutter release.
The wireless remote controllers use radio transmission to interwork with the WR-1 the WR-R10 and the WR-T10 wireless remote controllers to give great flexibility. One WR-1 can communicate with many different WR-1 receivers.
The WR-1 (transceiver) is an advanced multi-functional remote control, transmitter and receiver that allows the photographer to view the status of, or to enable the changing of the  settings of compatible cameras (the D7100), when WR-1 units are used at the send and receive end. Various settings such as exposure modes, shutter speed, aperture value, ISO sensitivity, etc. can be changed remotely.
The maximum specified communication range between WR-1 units is up to 120 mwtres or 394 feet with no obstructions in the path and fifteen channels are available.
The photographer can remotely control a camera with a WR-1, used as a transmitter and receiver, but also pair the WR-1, WR-R10 and WR-T10 units together. The maximum number of controllers that can be paired is a quantity of 20 WR-1 units or 64 WR-R10 units.
Also possible, is simultaneous or synchronized release of shutters on several cameras using the WR-1 units. Only a camera with a ten pin remote terminal can be used as a master camera for this synchronized release operation.
There are also additional options including dividing remote cameras into groups and controlling each group separately, also interval timer photography and remote shooting by combining the WR-1 with WR-R10/WR-T10 combination.
For the WR-1 to be compatible with the WR-T10 & R10 they need to be set to Group A as the WR-R10/WR-T10 system is fixed on Group A.