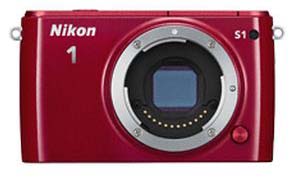 This camera is effectively the smallest of the Nikon 1 series cameras and aims for simplicity of operation with a complete range of interchangeable lenses.
It is a very portable high quality take everywhere camera. The S1 features high speed autofocus and a very short  release lag time of  80ms in single-point autofocus mode.
The camera can record a 15-frame slow motion video, then turn the most impressive frame into a beautiful image .
The S1 features a large 10.1-megapixel CX-format CMOS sensor combined with Nikon's advanced EXPEED 3A engine for image processing
The S1 offers special effects that let you add your own style to every photo. These effects include Night landscape, Backlighting, Soft focus, Selective colour, Miniature effect and more. The camera also incorporates a useful pop-up i-TTL flash gives you the right amount of lighting every time.
There is virtually no limit to what you can do with the S1. You can choose from a wide range of accessories, such as 1 NIKKOR lenses, a waterproof case and the WU-1b Wireless Mobile Adapter. The F-Mount Adaptor will allow you to use any NIKKOR lens from the FX and Dx range of lenses.
You can also choose your camera from a range of colors to suite your own black, pink, red, white, and khaki. The colors of the lenses match the body when purchased in a kit.
Specifications
Effective angle of view, 2.7x lens focal length, 35 mm format equivalent
Effective pixels, 10.1 million
Image sensor, 13.2 mm x 8.8 mm CMOS sensor, Nikon CX format
Image size (pixels)

Still images (aspect ratio 3 : 2), 3872 x 2592, 2896 x 1944, 1936 x 1296
Still images (aspect ratio 16 : 9), 3840 x 2160
1080/60i, 1080/30p selected in advanced movie mode
1280 x 720 (720/60p, 720/30p selected in advanced movie mode

Media, SD (Secure Digital), SDHC, and SDXC memory cards
Electronic shutter Speed, 1/16,000-30 s in steps of 1/3 EV; Bulb ends automatically after approximately 2 minutes
Flash sync speed, Synchronizes with shutter at X=1/60 s or slower
Frame advance rate, 5, 15, 30, or 60 fps,
Self timer, 2 s, 5 s, 10 s
ISO sensitivity, ISO 100-6400 in steps of 1 EV; auto ISO sensitivity control (ISO 100-6400, 100-3200, 100-800) available (user controlled in P, S, A, and M modes)
Built in flash, Guide Number (GN) 5/16 (m/ft, ISO 100, 20 °C/68 °F)
Movie Metering,

TTL metering using image sensor
Matrix Center-weighted: Meters 4.5 mm circle in center of frame Spot: Meters 2 mm circle centered on selected focus area
HD movies (aspect ratio 16 : 9) 1920 x 1080/60i (59.94 fields/s*) 1920 x 1080/30p (29.97 fps) 1280 x 720/60p (59.94 fps) 1280 x 720/30p (29.97 fps) Slow-motion movies (aspect ratio 8 : 3) 640 x 240/400 fps (plays at 30p/29.97 fps) 320 x 120/1200 fps (plays at 30p/29.97 fps) Motion Snapshot (aspect ratio 16 : 9) 1280 x 720/60p (59.94 fps) (plays at 24p/23.976 fps) * Sensor output is about 60 fps
File format, MOV
Dimensions (W x H x D), 102.0 x 60.5 x 29.7 mm (4.0 x 2.4 x 1.2 in.), excluding projections
Weight, 240 g (8.5 oz) with battery and memory card but without body cap; approx. 197 g (6.9 oz), camera body
Operating environment, Temperature 0 °C-40 °C (+32 °F-104 °F), Humidity, 85% or less (no condensation).