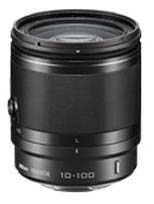 This 10-100mm f/4-5.6 lens will form a great choice for the Nikon 1 photographer where a high quality lens is required with this mirrorless camera.
This general purpose and powerful zoom lens has a focal length range of 10–100mm and maximum apertures of f/4.0–5.6, plus a useful Vibration Reduction function to ensure that your still images stay crisp.
It has a compact design and high-quality metallic exterior for robust usage.
The lens provides an angle of view of 27 to 270 mm compared to the 35mm format. The lens also provides a 10x zoom lens focal length range.
The lens is available in five colors to match your choice of camera colour.
Specifications
Nikon 1 mount lens
10-100 mm
Maximum aperture, f/4-5.6
Minimum aperture, f/16
Lens construction, 19 elements in 12 groups, including 3 aspherical lens elements, 2 ED lens elements, and HRI lens elements)
Angle of view, 77°-9° 10′
Minimum focus distance,

10 mm focal length,  0.35 m, 1.1 ft
60 mm focal length, 1.0 m, 3.3 ft
100 mm focal length, 0.65 m, 2.1 ft

Maximum reproduction ratio (35mm equivalent ratio), 0.12x, 0.33x
7  rounded diaphragm blades
Diaphragm fully automatic
Aperture range

10 mm focal length, f/4 to f/16
100 mm focal length, f/5.6 to f/16

Filter attachment size, 55 mm, P=0.75 mm
Dimensions, 60.5 mm diameter x 70.5 mm
Weight, 298 g, 10.5 oz.