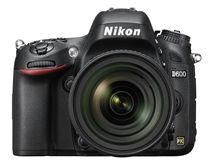 This new camera from Nikon appears to be the lightest and most compact full frame DSLR, it should offer exceptional image quality in the hands of a good photographer.
The new FX format CMOS sensor is 24.3 effective megapixels. The ISO sensitivity range is from 100 to 6400, expandable to ISO 50 equivalent or ISO 25600 equivalent.
The highest shutter speed of this camera has been reduced to 1/4,000 second compared to previous cameras with a high shutter speed of 1/8,000 second.
The camera has an approximate start up time of  0.13 second and a shutter release lag of approximately 0.052 seconds. The continuous shooting speed is 5.5 fps.
The optical viewfinder provides 100% frame coverage and double slots are provided for SD cards.
Full selective movie modes are provided and a virtual horizon that detects both "pitching" and "rolling" directions.
The camera is compatible with the new WU-1b wireless mobile adapter to enable remote shooting and transmission of images to a smart wireless device.
One feature that I really like with this camera, is that for HDR shooting to get better dynamic range, the camera can capture with bracketing 2-3 frames in steps of 1/3, 1/2, 2/3, 1, 2, or 3 EV. Most other Nikon cameras have been limited to + or – 1 EV.
Specifications
Effective pixels, 24.3 million
Image sensor, 35.9 x 24.0 mm CMOS sensor
SD (Secure Digital) and UHS-I compliant SDHC and SDXC memory cards
Double slot, Slot 2 can be used for overflow or backup storage or for separate storage of copies
Shutter Speed, 1/4000 – 30 s in steps of 1/3 or 1/2 EV, bulb, time (requires optional ML-L3 remote control), X200
ISO sensitivity. ISO 100 – 6400 in steps of 1/3 or 1/2 EV. Can also be set to approx. 0.3, 0.5, 0.7, or 1 EV (ISO 50 equivalent) below ISO 100 or to approx. 0.3, 0.5, 0.7, 1, or 2 EV (ISO 25600 equivalent) above ISO 6400; auto ISO sensitivity control available
Movie
Metering, TTL exposure metering using main image sensor

Metering method, Matrix
Frame size (pixels) and frame rate,

1,920 x 1,080; 30 p (progressive),
25 p, 24 p 1,280 x 720;
60 p, 50 p, 30 p, 25 p

Dimensions (W x H x D), 141 x 113 x 82 mm, 5.6 x 4.4 x 3.2 in.
Weight, 850 g, 1 lb 14.0 oz with battery and memory card but without body cap; 760 g, 1 lb 10.8 oz; camera body only
Operating environment

Temperature, 0-40 °C (+32 – 104 °F)
Humidity, 85% or less (no condensation).