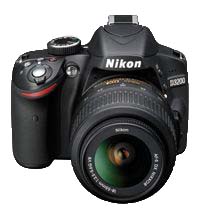 The pixel density of the entry level cameras keep increasing with each release and the new entry level Nikon D3200 is evidence of this. I am not sure when this increase in pixel density will cease.
The D3200 is a high performance entry class camera. This compact lightweight camera utilizes the newly developed Nikon DX format CMOS sensor and the EXPEED 3 image-processing engine that delivers 24.2 megapixels high image quality and ISO sensitivity range from ISO100 to 6400.
There is an easy to use Guide Mode that shows you how to capture great pictures. The camera is available in both black and red.
The image processing engine EXPEED 3 is the same as that used by the Nikon D4 FX format flagship camera and achieves high speed, multiple functions and high performance.
The Scene Recognition System enables beautiful pictures with sharp focus and appropriate brightness and color by recognizing the subject and scene conditions prior to capture.
High-speed continuous shooting at 4 fps to capture decisive moments is provided.
The optional WU-1a Wireless Mobile Adapter transmits images to smart devices wirelessly.
There is a variety of in camera image editing functions such as Selective color, Miniature effect, and Trim.
Also, with high-speed readout from the image sensor integrated with the superior image processing capability, Full HD D-Movie at 1,920 x 1,080/30p is provided.
The camera will identify the light source precisely, auto white balance, to ensure perfect colour reproduction.
Here are some sample images the Nikon DX cameras.

Specifications
Effective angle of view, 1.5 x lens focal length
Effective pixels, 24.2 million,
Image sensor, 23.2 x 15.4 mm CMOS sensor
Shutter Type, Electronically controlled vertical travel focal plane shutter

Speed, 1/4000 – 30 s in steps of 1/3 EV;
Bulb;
Time (requires optional ML-L3 remote control)

Flash sync speed, X=1/200 s; synchronizes with shutter at 1/200 s or slower
ISO sensitivity, ISO 100 – 6400 in steps of 1 EV; can also be set to approx. 1 EV above ISO 6400 (ISO 12800 equivalent); auto ISO sensitivity control available
Movie

TTL exposure metering using main image sensor
Metering method, Matrix
Frame size (pixels) and frame rate

1,920 x 1,080, 30 p (progressive)/25p/24p, (fine)high/normal
1,280 x 720, 60p/50p, (fine)high/normal
640 x 424, 30p/25p, (fine)high/normal
Frame rates of 30p (actual frame rate 29.97 fps) and 60p (actual frame rate 59.94 fps) are available when NTSC is selected for video mode. 25p and 50p are available when PAL is selected for video mode. Actual frame rate when 24p is selected is 23.976 fps.
File format, MOV

ISO sensitivity, ISO 200 – 6400; can also be set to approx. 1 EV above ISO 6400 (ISO 12800 equivalent)
Dimensions (W x H x D), 125 x 96 x 76.5 mm (5.0 x 3.8 x 3.1 in.)
Weight, 505 g (1 lb 1.8 oz) with battery and memory card but without body cap; approx. 455 g/1 lb (camera body only)
Operating environment

Temperature, 0 – 40°C (+32 – 104°F)
Humidity, Less than 85% (no condensation).