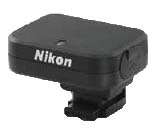 The Nikon 1, GP-N100 GPS Unit will enable you to tag your images with their GPS coordinates if you like to travel with your Nikon 1 V1 camera, the tiny GP-N100 GPS unit will enable you to remember where you took each image.
Sometimes I have a great deal of trouble trying to remember where I captured a certain image and this device is great to help you remember.
It will record all location information such as latitude, longitude, altitude and time and geotags the image data in the file EXIF field.