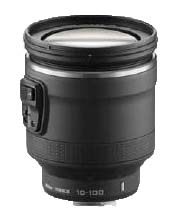 The Nikon 1 Nikkor VR 10-100mm f/4.5-5.6 PD-Zoom lens appears to be aimed more for the movie maker, using one of the new Nikon 1 cameras. This is a relatively large and heavier lens than the other Nikon 1 zooms.
It is a 10 times power drive zoom and provides a very wide range in focal lengths.
The  10-100mm zoom range is equivalent in 35 mm to 27-270 mm.
The lens has a retractable mechanism that will extends the lens, or fold it away to a very compact arrangement when the camera is powered off.
The following lenses are available for the Nikon 1 camera series:
10-100mm f/4.5-5.6 VR PD Zoom Lens – Wide range small aperture lens, 35mm equivalent is 27 to 270mm.

10mm f/2.8 Lens – High quality prime available light lens, 35mm equivalent is 27mm.

30-110mm f/3.8-5.6 VR Lens – Telephoto zoom lens, 35mm equivalent is 81-297mm

10-30mm f/3.5-5.6 VR Lens – Standard focal l

ength zoom, 35mm equivalent is 27-81mm.
The higher aperture lens, f/4.5 to f/5.6 lens  is less suited to available light photography usage and the f/2.8 lens is a really nice prime lens for available light photography. There is not yet a large range of lenses to choose from for the Nikon 1 system and I guess more lenses will be developed with time as the camera system is still relatively new.
This lens combined with the Nikon 1 camera would form the basis of an excellent compact and light travelling outfit if you are not too keen on the larger SLR kits.
For a complete Nikon 1 systen you may need to get the three lenses 10mm f/2.8, 30-110mm f/3.8-5.6 VR and the 10-30mm f/3.5-5.6 VR lens.
There are now many images from this lens on the Flickr site.
Specifications
Nikon 1 Nikkor VR 10-100mm,
Lens construction, 14 groups, 21 elements,
Maximum aperture, f/4.5 to 5.6,
Minimum aperture, 16,
Angle of view 77° to 7° 10',
Number of diaphragms, 7,
Minimum focus distance, 10mm focal length, 0.3 metres, 1 feet; 100mm focal length, 0.85 metres, 2.8 feet,
Maximum reproduction ratio, 0.127, 35 mm equivalent, 0.062,
Weight, 530 grams, 1 lb 2.7 ounces,
Diameter x length, distance from camera lens mount flange, 77×95 when the lens is retracted,
Filter attachment size, 72 mm,
Lens cap type, Snap on,
Lens hood, HB-N102 (provided),
Lens case, CL-N102 (optional).