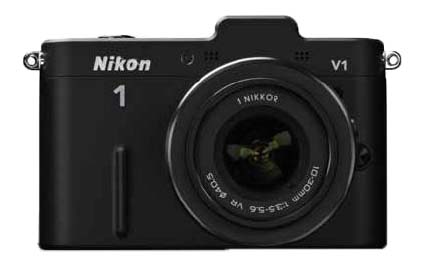 The Nikon 1 V1 camera I believe, is aimed essentially at Coolpix users who want to advance to something more capable, but do not want to move to a full digital SLR camera.
This model looking at the specifications appears to be aimed more at the enthusiast who is looking for a mirrorless small camera, as this camera is more oriented for use with manual settings.
Looking at the specification sheet it does seem to offer a very sophisticated performance, but is essentially a miniature DSLR, it would suit many photographers who only wish to print images up to maximuim 10 inches or 250mm.
This camera is extremely portable and is reputed to offer the "fastest focussing system in the world", the focussing will instantly switch between Phase Detection AF and Contrast Detect AF to deliver excellent sharpness.
There is an F-mount adapter that attaches to the camera's 1-mount to allow DX and FX lenses to be used. I really want to get hold of one of these cameras and the F-mount adaptor to try it with one of my longer F-mount lenses. It should prove interesting with the 2.7 times lens multiplication factor.
Another interesting feature with this camera is the new EXPEED 3 that is reputed to process images at an incredible 600 megapixels a second to enable the camera to shoot full resolution still images at at up to 60 frames per second.
If you look through the specifications of this camera, it is obvious that it pretty well offers all the features of the fully fledged DX and FX digital SLR cameras in a smaller package but with reduced pixel count and obviously provides equivalent performance, but at lower ISO levels.
In addition to the capability for capturing excellent still images, this cameras has excellent capability for capturing superb movies.
Specifications
Effective angle of view, 2.7× lens focal length, Nikon CX format,
Effective pixels, 10.1 million,
Image sensor, 13.2 mm × 8.8 mm, CMOS sensor,
Image size,

Still images, aspect ratio 3:2,

3,872 × 2,592
2,896 × 1,944
1,936 × 1,296,

Still images, movie mode, aspect ratio 16:9,

3,840 × 2,160, 1080/60i
1,920 × 1,080, 1080/30p
1,280 × 720, 720/60p,

Still images, motion snapshot mode, aspect ratio 16:9,

Storage, SD, SDHC and SDXC memory cards,
Electronic viewfinder,

 0.47-in., approx. 1440k-dot color TFT LCD viewfinder with diopter control and brightness adjustment,
Frame coverage approximately 100% horizontal and 100% vertical,
Eyepoint, 17 mm,
Diopter adjustment, –3–+1 m–1,

Lens aperture electronically controlled,
Eye sensor, camera switches to viewfinder display when it detects that viewfinder in use,
Shooting modes, still image (3:2 ), smart photo selector (3:2), movie (HD 16:9, slow motion 8:3), motion Snapshot (16:9),
Compatible lenses 1 NIKKOR lenses for 1 mount, adaptor for more  recent DX and FX Nikkors,
Electronically controlled vertical travel focal plane mechanical shutter,

Mechanical shutter: 1/4,000 to 30 seconds in steps of 1/3 EV;
Bulb,
Electronic shutter, 1/16,000 to 30 seconds in steps of 1/3 EV; Bulb,
Timer, requires optional ML-L3 remote control,
Flash sync speed

Mechanical shutter, synchronizes with shutter at X=1/250 seconds or slower,
Electronic shutter, synchronizes with shutter at X=1/60 s or slower,

Release mode, single frame, continuous,
Self-timer, delayed remote, quick response remote, interval timer shooting,
Frame advance rate,

Electronic (Hi), approximately 10, 30, or 60 fps,
Other modes, up to 5 fps, single AF or manual focus,

Shutter-priority auto or M Manual exposure mode, shutter speed 1/250 s or faster,
Self-timer, 2 s, 5 s, 10 s,
Remote control modes, delayed remote (2 s), quick response remote,
Exposure metering, TTL metering using image sensor,
Exposure compensation, –3–+3 EV in increments of 1/3 EV,
ISO sensitivity 100 to 3200 in steps of 1 EV. Can also be set to approximately 6400 equivalent,
Focus,
Phase detection, contrast detect auto focus,
AF assist illuminator,
Flash compensation, –3–+1 EV in increments of 1/3 EV,
Movie,

Metering TTL metering using image sensor,
Metering method,

Matrix,
Center weighted, meters 4.5 mm circle in center of frame,
Spot, meters 2 mm circle centered on selected focus area,

Frame size (pixels),

HD movies,

1,920 × 1,080/60i (59.94 fields/s *),
1,920 × 1,080/30p, recording rate (29.97 fps),
1,280 × 720/60p (59.94 fps),

Slow motion movies,

640 × 240/400 fps (plays at 30p/29.97 fps),
320 × 120/1,200 fps (plays at 30p/29.97 fps),

Movies recorded in still image mode,

1,072 x 720/60p (59.94fps), plays at 24p/23.976fps),

Motion snapshot,

1,920 x 1,080/60p (59.94fps) (plays at 24p/23.976fps),

Maximum recording time,

1080/60i (20 minutes),
1080/30p (20 minutes),
720/60p (29 minutes),

File format MOV,
Video compression, H.264/MPEG-4 Advanced Video Coding,
Audio recording format, AAC,
Audio recording device, built in or optional external ME-1 stereo microphone,

Dimensions (W×H×D), 113 × 76 × 43.5 mm, 4.4 × 3 × 1.7 in.,
Monitor, 36 mm, 1.4 inch,
Weight, 383 grams, 13.5 oz with battery and memory card but without body cap, approximately 294 grams, 10.4 oz (camera body only),
Operating environment,

Temperature:0–40 °C/+32–104 °F,
Humidity Less than 85% (no condensation),

Battery life,

Still images, approximately 400, or 350 with SB-N5,
Movies, approximately 120 minutes of HD footage at 1080/60i