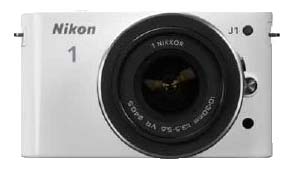 The Nikon 1 J1 is an intermediate automatic operation camera that sits between the Coolpix models and the DX Digital SLR cameras and on that basis the general images performance will be something in between these cameras. But the Nikon J1 will be a camera capable of much faster operation than both the Coolpix and DX camera but image quality may be lacking that of the Dx camera.
The image sensor of the J1 camera should deliver excellent images from the larger sensor than the Coolpix cameras and it includes a built in pop up flash which offers additional light when needed.
The J1 menus are easy to read and simple to navigate. The camera is available in a range of colours with the compact 1 NIKKOR lenses to match the camera.
The camera has what Nikon claim is the fastest autofocus in the world and the sensor can switch to Phase Detection AF or in poorly lit conditions will switch to Contrast Detect AF.
The new EXPEED 3 image processing engine in this camera is the fastest processing yet in Nikon cameras. It can process images at 600 megapixels a second and can shoot full resolution still images at up to 60 frames per second.
The Nikon Smart Photo Selector will automatically displays the best shot of 5 on the monitor and four more shots are saved for you to choose from. The camera recommends the best shots based on factors such as facial expression, composition and focus.
In addition to the capability for capturing excellent still images, this cameras has excellent capability for capturing superb movies.
Specifications
Effective angle of view approximately 2.7× lens focal length, Nikon CX format,
Effective pixels, 10.1 million,
Image sensor size,  13.2 mm × 8.8 mm, CMOS,
Dust reduction system, dust shield glass,
Image size pixels,

Still images and Smart Photo Selector modes aspect ratio 3:2,\

3,872 × 2,592,
2,896 × 1,944,
1,936 × 1,296,

Still images, movie mode, aspect ratio 16:9,

3,840 × 2,160, 1080/60i,
1,920 × 1,080, 1080/30p,
1,280 × 720, 720/60p,

Still images, Motion Snapshot mode, aspect ratio 16:9,

Built in flash, raised by sliding flash pop-up switch, 5 /16(m/ft, ISO 100,
Movie,

TTL metering using image sensor,
Metering method,

Matrix,
Center weighted, meters 4.5 mm circle in center of frame,
Spot, meters 2 mm circle centered on selected focus area,

Frame size (pixels),\

HD movies,

1,920 × 1,080/60i (59.94 fields/s *),
1,920 × 1,080/30p recording rate (29.97 fps),
1,280 × 720/60p (59.94 fps),

Slow motion movies,

640 × 240/400 fps (plays at 30p/29.97 fps),
320 × 120/1,200 fps (plays at 30p/29.97 fps),

Movies recorded in still image mode,

1,072 x 720/60p (59.94fps) (plays at 24p/23.976fps),

Motion Snapshot,
1,920 x 1,080/60p (59.94fps) (plays at 24p/23.976fps),

Maximum recording time,

1080/60i (20 minutes),
1080/30p (20 minutes),
720/60p (29 minutes),

File format MOV,

Monitor 7.5cm/3-in., approx. 460k-dot, TFT LCD withbrightness adjustment,
Dimensions (W×H×D), 106× 61×29.8mm, 4.2× 2.4× 1.2inch,
Weight 277 grams, 9.8oz with battery and memory card,
Operating temperature, –40 °C, +32–104 °F,
Humidity, less than 85% (no condensation),
Battery life,

Still images, approximately 230,
Movies approximately 70 minutes of HD footage at 1080/60i.
More products can be viewed by refreshing the page.