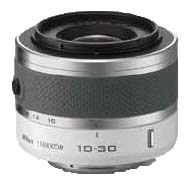 The Nikon 1 NIKKOR VR 10-30mm f/3.5-5.6 lens is a very compact lens for the Nikon 1 CX system.
It is a medium (normal) zoom lens with a 10-30mm focal length range, 35 mm equivalent 27-81 mm, there is a button on the lens to retract it for compactness when it is not being used.
The lens has built in Vibration Reduction to ensures steady still images and movies, it uses Nikons Stepping Motor for focussing to give quiet autofocus performance, which can be especially useful when filming.
The following lenses are available for the Nikon 1 camera series:
10-100mm f/4.5-5.6 VR PD Zoom Lens – Wide range small aperture lens, 35mm equivalent is 27 to 270mm.

10mm f/2.8 Lens – High quality prime available light lens, 35mm equivalent is 27mm.

30-110mm f/3.8-5.6 VR Lens – Telephoto zoom lens, 35mm equivalent is 81-297mm

10-30mm f/3.5-5.6 VR Lens – Standard focal length zoom, 3

5mm equivalent is 27-81mm.
The higher aperture lens, f/4.5 to f/5.6 lens  is less suited to available light photography usage and the f/2.8 lens is a really nice prime lens for available light photography. There is not yet a large range of lenses to choose from for the Nikon 1 system and I guess more lenses will be developed with time as the camera system is still relatively new.
For a complete Nikon 1 systen you may need to get the three lenses 10mm f/2.8, 30-110mm f/3.8-5.6 VR and the 10-30mm f/3.5-5.6 VR lens.
There are now many images from this lens on the Flickr site.

Lens Specifications
Nikon 1 NIKKOR VR 10-30mm,
Lens construction, 9 groups, 12 elements,
Angle of view, 77° to 29°40′,
Number of diaphragms, 7,
Maximum f-stop, 3.5 to 5.6,
Minimum f-stop 16,
Minimum focus distance, 0.2metres, 0.7 feet,
Maximum reproduction ratio , 0.21; 35 mm equivalent, 0.57,
Weight, 115 grams, 4.1 ounces,
Size, Diameter x length (distance from camera lens mount flange) (mm) 57.5×42 mm when lens is retracted,
Filter attachment size, 40.5mm,
Lens cap type, Snap-on,
Lens hood, HB-N101 (optional),
Lens case, CL-N101 (optional).