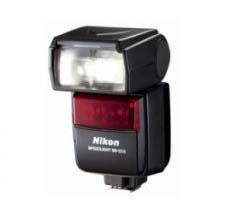 When you purcase a camera you should think of the complete camera system you are buying into. Nikon have a very impressive flash system which forms part of their camera system.
The SB-600 flash is a great addition to the Nikon camera system in conjunction with any of their current cameras.
The Speedlight SB-600 electronic flash supports Nikon's advanced wireless lighting creative system as a remote light or as the main light and allows for the use of multiple flashes to further extend the creative possibilities.
The SB-600 flash supports the Nikon Creative Lighting System with i-TTL, to provide automatic balanced fill flash, D-TTL, TTL functionality or manual control.
Creative Lighting System
The Nikon Creative lighting system enables a variety of flash operations using multiple flashes with automatic TTL operation. The remote flashes are controlled remotely using wireless communication.
Purchase your Nikon Speedlight flash units here at B&H Photo Video.
Specifications
Automatic flash exposure control as follows

i-TTL,
D-TTL,
TTL,
Balanced Fill-Flash,
Manual

Guide number at 35mm zoom head position,

30/98 m/ft at ISO 100,
42/138 m/ft at ISO 200

Auto FP High Speed sync,
Wide area AF Assist Illumination,
Accurate i-TTL flash control is achieved through flash exposure monitoring control,
Flash angle coverage is Automatic 24-85mm, extendable to 14mm with the built in wide angle flash adapter
Flash shooting distance range (in TTL auto flash mode) 0.6m to 20m (2 to 65.6 ft.), variable depending on the ISO sensitivity, zoom-head position and lens aperture in use
Recycling time, 3.5 sec. with alkaline batteries
Number of flashes, 200 with alkaline batteries
Power source, four, 1.5V AA size batteries.
Dimensions, 68 x 123.5 x 90mm (2.7 x 4.9 x 3.5 in.),
Weight, without batteries, 300g (10.6 oz.)