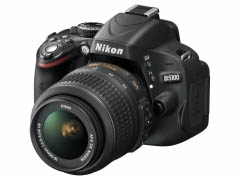 The new Nikon D5100 high resolution DX format camera uses the same CMOS image sensor with an effective pixel count of 16.2 million pixels as the more expensive D7000 camera.
The D5100 camera also provides a new High Dynamic Range (HDR) function which may appeal to many people.
The range of ISO sensitivities is ISO 100 – 6400 and additional increases are provided up to ISO 25600.
The High Dynamic Range (HDR) function will capture two shots of varying exposure each time the shutter release button is operated and then combines the two shots into a single image with a broader dynamic range. This is a very interesting function to be done in camera rether than in post processing.
A variable angle LCD monitor has been provided to open up to 180° to the side and can be rotated up to 90° clockwise and up to 180° counter anti clockwise when it is open. This facility enables shooting from many angles and even making  framing of self portraits possible.
D-Movie mode is provided for recording and editing of Full HD movies together with in camera movie editing functions that allow users to save a single frame as a still JPEG image or delete unnecessary portions from the beginning and/or end of movie files. Also stereo sound recording is available via the optional Stereo Microphone ME-1.
The Special Effects Mode offers seven special effects, including Selective Colour and Colour Sketch.
In Selective colour mode all colours other than those selected by the user are recorded in black and white. Up to three colours can be selected at a time.
In Colour sketch mode the camera detects and colours outlines for a colour sketch effect. The vividness of colours and the thickness of outlines can be adjusted.
In Miniature effect mode distant subjects appear as miniatures for a diorama effect. Users can choose the orientation (vertical/horizontal) and width (narrow/normal/wide) of the area that will be in focus.
In Night vision mode extremely high ISO sensitivities of up to 1024oo are used to enables shooting under conditions of darkness while verifying the subject and composition in the monitor.
High speed continuous shooting at up to approximately 4 fps is available.
Quiet shutter release mode is also provided.

Camera Specifications
16.2 million pixels
DX format, 23.6 x 15.6 mm, image CMOS sensor
4,928 x 3,264; 3,696 x 2,448; 2,464 x 1,632;
D-movie: 1920 x 1080, 30fps, 25fps, 24fps; 1280 x 720, 30fps, 25fps, 24fps;  640 x 424, 30fps, 25fps
ISO 100 to 6400 in steps of 1/3, 1/2, or 1 EV, plus HI-0.3, HI-0.5, HI-0.7, HI-1, HI-2 (ISO 25600)
Picture Angle is 1.5 times lens focal length
Dimensions 128 x 97 x 79 mm (5.0 x 3.8 x 3.1 in.)
Weight 509 g (1 lb. 2 oz.).