The Nikon Remote Cord MC-36 is a cable and remote control unit to remotely control your Nikon camera via the 10-pin connector.
It is really more than just a remote control unit, it performs functions as a remote manual shutter release and also as an automatic timer.
The automatic function provides additional functions to those provided in the camera. Most Nikon cameras will only provide timer functionality up to 30 seconds, whereas the MC-36 is far more flexible providing timing up to around 100 hours.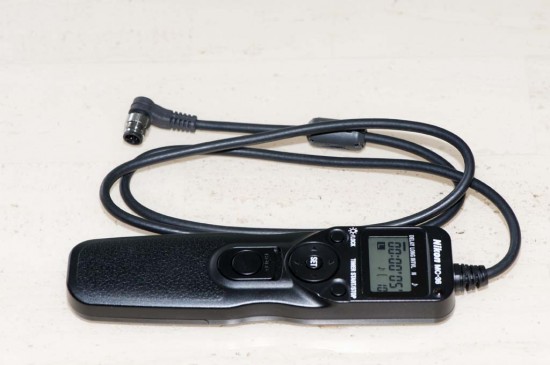 The above image shows the actual MC-36 timer.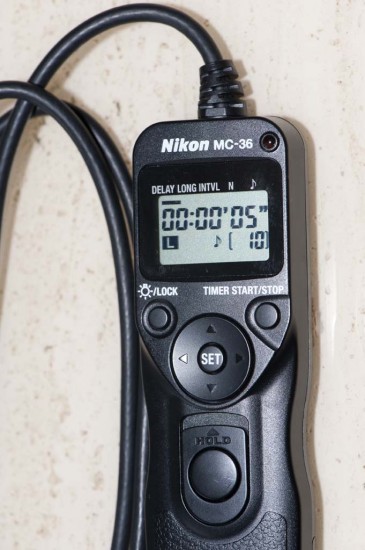 Above is a close up of the controls of the MC-36.
When using the remote control purely as a remote it provides the normal shutter half press function and then the normal shutter operation.
When using the remote control for the timer function the camera needs to be set to manual mode, the shutter speed to bulb and the camera interval timer to off.
For timed operation the remote has the following settings:
DELAY – the delay before the shutter is releases
LONG – the exposure time
INTERVAL – the interval between exposures
N – the number of shots to be taken
♪ – speaker on.
I find the MC-36 unit to be very useful as a remote control, due to the additional functionality offered.
This device is great for star trail images, to take automatically multiple images of around 4 minutes with a one second interval between them and then stack them to form a single image. Images up to many hours can be taken and this avoids any build up of noise in the final image. It can also be used for time lapse photography.
A device such as this is essential when using a tripod to avoid camera shake.
The cable on this remote is 850mm or 33.5inches long. An extension cable for this remote can be purchased, however it becomes quite expensive if a long extension is required using multiple extension cables. In a future article I will outline how this cable can be extended using a few handyman skills at a small cost.
This device is highly recommended.
Further details of remote controls with the Nikon 10-pin connector are given in this article
The Nikon MC-36 Remote can be  purchased from The B&H link below. We highly recommend B&H.