Nikon View NX2 has now been released. The software is available free from Nikon, a link to the download is shown at the end of this review.
This Nikon software is for image browsing and editing  and provides improved editing and printing functions for still images and now includes movies. I have always used Nikon View as software to manage and view my images and look forward to this new version.
The ViewNX 2 software offers the same basic functions as the older ViewNX and offers improved operation, image editing and printing functions. In addition it offers a new user interface.
Geo Tagging is also available.
A screen view of the main Nikon View NX2 software is shown here.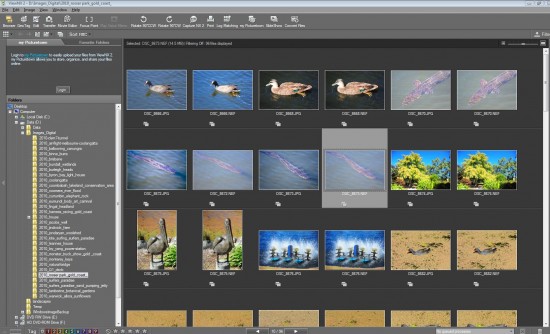 Some movie editing functions are also available in the software,
trim to specify and extract only the desired portion of a movie file.
Save movie frame as still image
Saves a specified movie frame as a JPEG image with the same pixel count as the original movie frame.
Some image editing functions are available in the software.
Crop, to save only the desired portion of a photo.
Auto Red-Eye to correct the "red-eye" effect that often occurs in photos of people taken with a flash.
Straighten photos taken at an angle.
Auto Lateral Color Aberration, correct color shift caused by chromatic aberration and reduce lateral chromatic aberration.
Aspects such as brightness, contrast, highlights and shadows can be adjusted for both JPEG and RAW images.
A variety of display modes including Thumbnail Grid, Thumbnail List, Image Viewer and Full Screen are available.
RAW image processing is available with Exposure Comp., White Balance and Picture Control adjustments.
Custom Picture Controls can be created and saved. Custom Picture Controls created with a Nikon camera can be imported into ViewNX 2 and exported to compatible cameras. (RAW images only).
Nine color labels and ratings (up to five stars can be specified) enable detailed organization and classification of images.
A screen shot of the image editing adjustments are shown as follows.

The file Metadate information is also available. Details of the metadata available is shown below.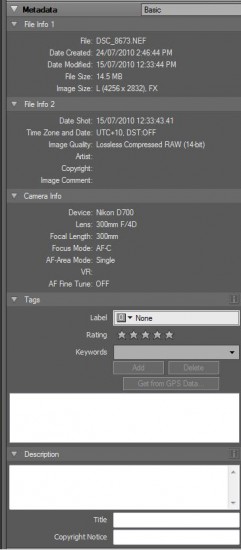 Files can be converted to different formats JPEG, TIFF (16bit), TIFF (8bit) and the image size can be adjusted. A screen shot of the adjustments available are shown below.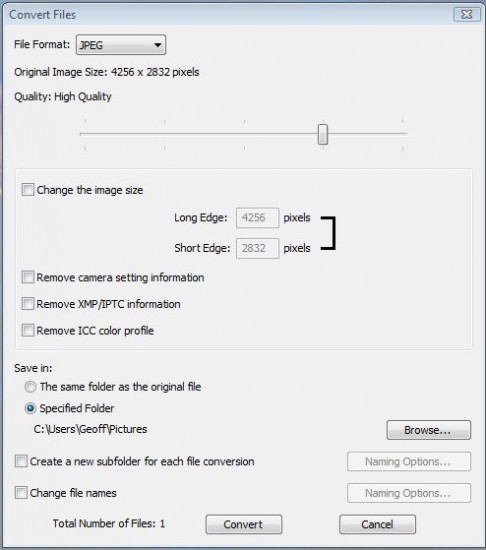 Nothing very much is free these days, however, nikon provide this package free with new cameras  and all upgrades are free. Down load it yourself to try out, I like it.
The Nikon View NX2 software can be downloaded here.
Nikon Capture NX-2
I do not use View NX-2 very much for processing images,  more as a file management tool as I far prefer the excellent results that I get from Nikon Capture.
Nikon View NX-2 may not meet all your needs for complete image processing. Lets face it, it is free and does not offer full image processing functionality. The prime software for processing Nikon raw files for me, is Nikon Capture NX-2. This software can be purchased via B&H Photo Video who we highly recommend. Complete versions and upgrades are available.


The Nikon Capture NX-2 software is the best raw conversion software for processing the Nikon raw files, particularly taking into account color balance dynamic range and obtaining full tonal ranges. I will be doing a full review of this software in the near future.