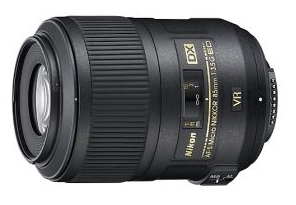 This lens is a DX format lens with built in vibration reduction (VR II) and silent wave motor (SWM). This lens is a Micro (Macro) lens designed foe close up work, with a focal length of 85mm, it has the capability to focus down to llife size.
The closest focusing distance is 0.286 metres, 0.9 feet. Two focus modes available, M/A to allow manual focus with manual override and M for manual focussing. The lens includes IF, internal focusing to enables focusing without changing the length of lens barrel.
This lens produces very nice bokeh due to the nine blade rounded diaphragm.
This lens is an excellent lens as a general purpose 85mm lens, with an excellent macro capability.
The cnstruction quality of this lens is not quite the same as some of the more professional Nikon lenses. The body is made mainly of plastics.
The 85mm lens has plenty of features such as VR, vibration reduction, ED glass to effectively reduce chromatic aberration and AF-S focusing.
The main feature of this lens is the 1:1 macro focusing capability. The auto focussing with this lens is quick, quiet, accurate and without hunting. The manual focus ring is very smooth to allow for quick manual focusing when using it for macro work.
Purchase your Nikon Digital SLR Lenses here at B&H Photo Video.
The specification of this lens is as follows:
Lens Construction is 14 elements, 10 groups, 1 ED glass,
Picture Angle, DX Format 18°50′
F stop range 3.5 to 32,
Closest focusing distance 0.286 metres,
Maximum reproduction ratio 1/1,
Filter size 52 mm,
Lens Cap Snap-on,
Lens Hood HB-37,
Lens Case CL-1018,
Dimensions 73 x 98.5 mm,
Weight 355 grams.