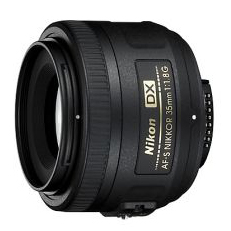 This lens on the Nikon DX format is a normal focal length lens compared to the FX format. This lens is excellent as a  fixed focal length lens for low light photography. This lens is extremely light weight and compact for easy handling. Two focus modes available with this lens,  M/A mode  (manual-priority autofocus) and M mode (manual focus).
This lens gives a natural blur effect as it has a seven-blade rounded diaphragm which gives a reasonable out of focus bokeh. This lens also has a built in focus motor (AF-S) and thus is suitable for all the current Nikon DX cameras.
In general a fixed focal length lens such as this, will give better quality images compared to a zoom lens, which can be a compromise at various focal lengths.
For quality images this lens is highly recommended at its low price point. This is a very small and  compact wide prime for DX cameras.
The AFS focussing ensures that the lens is fully compatible with all DX bodies, including the lower level bodies which do not have the auto focus motor built into the body.
The sharpness of this lens is excellent even wide open, flare is well controlled but some ghosting can occur and the lens has high contrast.
Purchase your Nikon Digital SLR Lenses here at B&H Photo Video.
The overall specification of this lens is as follows:
Lens Construction 8 elements, 6 groups, with one hybrid aspherical lens,
Picture Angle, DX Format of 44°,
F stop range 1.8 to 22,
Closest focusing distance 0.3 metres,
Maximum reproduction ratio 0.16 times,
Filter Attachment Size 52mm,
Lens Cap Snap on type,
Lens Hood, HB-46,
Lens Case, CL-0913,
Dimensions 70 x 52.5 mm,
Weight 200 grams.