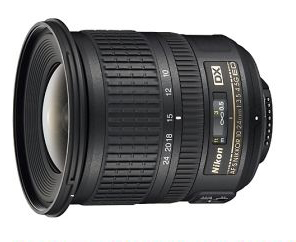 This lens is the most extreme ultra wide angle lens for the Nikon DX cameras. It covers a 2.4 times zoom range and features ED lens elements with a range of 10 to 24mm. Care needs to be used when using extreme wide ange lenses as it is very easy to create uninteresting images, it is good to place some interesting feature in the foreground. This lens is a great lens for landscape photography.
The lens features  the Nikon silent wave motor (SWM) which quiet AF operation. Two focus modes available, M/A (manual with priority autofocus) and M (manual focus), there is a seven blade rounded diaphragm for natural blur effects and excellent bokeh. The lens has an  internal focusing (IF) system to ensure that the lens length does not change during focussing.means the lens barrel length does not change during focusing.
The DX 10-24mm lens features an ED lens element design to minimize chromatic abberation and fringing where there are highlights in the image. Chromatic abberations are well controlled and a non issue if  the current generation of DX cameras are used, as they automatically correct for chromatic abberations.
There are quite a few zoom lenses to choose from for Nikon DX cameras to achieve a wide view and some of them are outlined as follows:
Sigma (Nikon Mount) 10-20mm f/4-5.6 EX DC HSM Lens

 – Ultra wide angle, DX zoom.

10-24mm f/3.5-4.5G ED AF-S DX Lens – Ultra wide angle, DX zoom.

12-24mm f/4G IF ED AF-S DX Lens

 – Wide angle, constant aperture, DX zoom.

16-85mm f/3.5-5.6G ED VR AF-S DX Lens

 – Normal focal length, DX zoom.

17-55mm f/2.8G IF ED AF-S DX Lens

 – Normal focal length, DX f/2.8, constant aperture zoom.

18-200mm f/3.5-5.6G ED VR II AF-S DX Lens

 – Wide range focal length, DX zoom.

55-300mm f/4.5-5.6G ED VR AF-S DX Lens

 – Wide focal length range, DX zoom.
In my opinion lenses with large apertures are generally not necessary for wide angle use but it really depends on the photographer's requirements.
There are many samples from this lens on the 
Flickr site
.
The main specification of this lens is as follows:
Lens Construction 14 elements, 9 groups, 2 ED glass elements, 3 aspherical elements,
Picture angle with DX format 109°-61°,
F stop range 3.5- 4.5 to 22-29,
Close focusing distance 0.24 metres,
Maximum reproduction ratio 0.2 times,
Filter size 77 mm,
Lens Cap Snap-on,
Lens Hood HB-23,
Lens Case CL-1118,
Dimensions 82.5 x 87 mm,
Weight 460 grams.