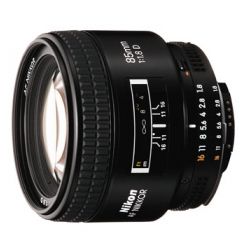 This telephoto lens is ideal for obtaining beautiful bokeh, it is ideal for portraits. The performance of this lens closely approaches the quality of the 85mm f/1.4 lens, but is much much cheaper and less than one stop slower than it expensive f/1.4 brother.
The 85mm, f/1.8 lens is a very nice lens at its price point, despite its cheap plastic exterior, the lens is capable of producing sharp and contrasty images from f/4 to f/11. This lens is also quite sharp even down to f/1.8, however not quite as sharp as when stopped down.
If you are keen on selective focus creative photography and nice background bokeh then this lens may be the one for you. A lens of 85mm is a very useful focal length on both FX and DX cameras. Be careful with this lens with flare when aiming directly into the sun.
This lens has now been superseded by the Nikon Nikkor 85mm f1.8g ASF-S lens.
Lens specifications:
Lens construction, 6 elements, 6 groups,
Picture angle, FX 28 degrees 30′,
Picture Angle, DX 18 degrees 50′,
F stop range 1.8 to 16,
Closest focusing distance, 0.85metres, 3 feet,
Maximum reproduction ratio 0.11 times,
Filter size 62mm,
Dimensions 71.5 x 58.5mm,
Weight 380 grams.