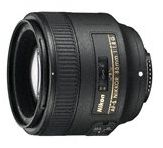 This AF-S Nikkor 85mm, f/1.8G is a fast f/1.8, medium focal length telephoto, fixed focal length lens. The lens is compatible with Nikon's FX and DX format cameras.
This lens is very ligjht weight and easy to carry. The lens uses a newly developed optical system which has been developed especially for digital cameras. The lens uses a Silent Wave Motor (SWM) to give very quiet auto focus operation.
Two focus modes are available, M/A for quick switching from AF to MF and M manual focus.
A lens such as this I regard as a very suitable lens for general photography as I really like the high quality of the latest designed prime lenses.
This low aperture lens, f/1.8 is excellent for low light photography and it would be my choice for portrait photography. Some photographers like a slightly longer lens, 105mm or 135mm but I prefer the 85mm as it is very flexible by moving slightly closer to the subject or further away. The 85mm lens is also cheaper to purchase than other similar performing lenses.
An often neglected feature of the low aperture lenses such as this 85mm f/1.8 lens, is the ability to use selective focus to isolate the subject from the background, this ability to blur out the background can mean the difference between an average looking image and  a stunning prize winning shot.
This lens combined with a relatively cheap 50mm f/1.8G standard lens or even a wider lens will give a excellent combination to form an extremely light kit of lenses for traveol photography which will give the photographer excellent abilities in both low light applications and to achieve superb selective focus.
Looking at the MTF graphs for this lens indicate that it is an extremely high performing lens with excellent image quality.
Some of the other Nikon FX prime lenses to choose from are as follows:
Specifications
Focal length, 85 mm
Maximum aperture, f/1.8
Minimum aperture, f/16
Lens construction, 9 elements in 9 groups
Angle of view, FX format 28° 30′, DX format 18 °50
Focusing, internal focusing (IF) System with autofocus with Silent Wave Motor and separate focus ring for manual focus
Minimum focus distance, 0.8 metres, 2.62 ft
Maximum reproduction ratio, 0.124 times
Number of diaphragm blades, 7
Filter size, 67 mm
Dimensions, 80 mm diameter x 73 mm
Weight, 350 grams, 12.4 ounces.