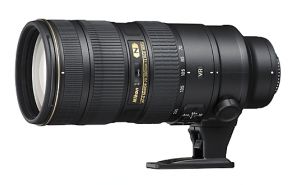 This zoom lens is as sharp as any fixed focal length lens in its range. It is a great lens for general telephoto lens photography.
There are three focus modes built in: M, M/A, A/M, the A/M focus mode, prevents accidental movements of the focus ring from overriding the autofocus while it's operating.
An aperture diaphragm with nine rounded blades gives a beautiful bokeh look to the images.
The images produced with this lens have excellent colour saturation, sharpness and high contrast.
Lens aberations has been nearly elimminated with this lens and are scarcely detectable over the full aperture and focal length ranges.
This lens has excellent bokeh probably the best of any Nikon zoom lens.
The latest release of this lens has improved significantly the vignetting which was evident in the older VR version.
One shortcoming with this lens is that the lens focal length does shorten as the lens is focussed closer than infinity.

Lens Specification:
Lens Construction 21 elements, 16 groups, 7 ED glass elements, and 1 nano crystal coating,
Picture Angle, FX 34°20' – 12°20',
Picture Angle, DX 22°50' – 8°,
F stop range, 2.8 to 22,
Closest focusing distance 1.4 m,
Maximum reproduction ratio 0.12 times,
Filter size 77mm,
Lens hood, HB-48,
Lens Case, CL-M4,
Dimensions 87 x 205.5 mm,
Weight 1,530 grams.