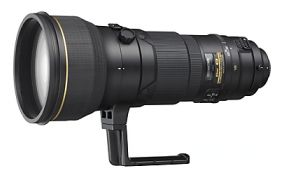 This is a very large lens and is just hand holdable for short periods, but is far more comfortable when used on a good gimbal mount.
This lens is equiped with the VR II system to help stabilize the lens, to minimizes blur caused by camera shake. There is a tripod mode to reduces vibration that may occur at shutter release when shooting with the lens attached to a tripod.
The A/M focus mode allows instant switching from autofocus to manual focus, even during AF servo operation, and offers a major improvement over conventional M/A modes by significantly reducing the possibility of unintentional switching from Auto to Manual.
Nine rounded diaphragm blades give an excellent bokeh to the images.
Tis lens is a great lens for sporting events and nature work with it's f/2.8 aperture for low light work, however the lens is heavy and bulky due to its f/2.8 aperture. This lens gives a very high image quality, with it's VR system to reduce the effect of camera movement. The lens has nano coating technology and ghosting and flare does not occur. The lens is very well built and handles superbly on the larger camera bodies.
With the full range of Nikon teleconverters this lens performs with outstanding image quality. It can be used on the following teleconverters, TC-1.4E II, TC-1.7E II and TC-2.0E III.
Lens Specification:
Lens Construction 14 elements, 11 groups), 3 ED glass elements, 1 nano crystal Coating, 1 meniscus protective lens,
Picture Angle, FX, 6°10',
Picture Angle, DX 4°00',
F stop range, 2.8 to 22,
Closest focusing distance 2.9 metres,
Maximum reproduction ratio 0.16 times,
Filter size 52 mm,
Lens Hood, HK-33,
Lens Case, CT-404,
Dimensions 159.5 x 368 mm,
Weight 4,620 grams.