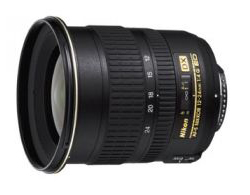 This lens is a constant aperture lens, with an aperture of 4.0, covering an ultra wide angle range of 12-24mm. It uses ED (extra low dispersion) glass elements and Nikon's silent wave motor. It uses aspherical lenses and ED glass elements.
An M (manual)/A (automatic)  mode switch is provided to switch between autofocus and manual focus. This lens is excellent for photography of wide expansive landscapes with Nikons range of DX cameras.
This lens is quite nicely built and takes 77 mm filters similar to most professional lenses. Focussing is fast and silent and the lens is a true IF design and there is no front rotation of the lens during focusing.
The lens produces vividly saturated colours with low levels of flare and ghosting. Light fall off at the corners is very slight and there is no vignetting.
Distortion is very low for a wide lens but there is a very slight amount of distortion at the wide end.
The best performance of this lens is at f/8 to f/11, but  it is still quite sharp at f/4. Some slight chromatic aberrations occur at the 12mm end.
There are quite a few DX zoom lenses to choose from in the Nikon range which are summarised as follows:
Sigma (Nikon Mount) 10-20mm f/4-5.6 EX DC HSM Lens

 – Ultra wide angle, DX zoom.

10-24mm f/3.5-4.5G ED AF-S DX Lens

 – Ultra wide angle DX zoom.

12-24mm f/4G IF ED AF-S DX Lens – Wide angle, constant aperture, DX zoom.

16-85mm f/3.5-5.6G ED VR AF-S DX Lens

 – Normal focal length, DX zoom.

17-55mm f/2.8G IF ED AF-S DX Lens

 – Normal focal length, DX f/2.8, constant aperture zoom.

18-200mm f/3.5-5.6G ED VR II AF-S DX Lens

 – Wide range focal length, DX zoom.

55-300mm f/4.5-5.6G ED VR AF-S DX Lens

 – Wide focal length range, DX zoom.
Of all the above lenses, the 17-55mm f/2.8 is my favourite, due to its larger aperture and suitability for low light shooting, but if you are photographing landscapes then an, f/4 lens will be quite useful. Some of the lenses with a larger focal length range will not perform as well as some of the other lenses.
See many images from this lens on the Flickr site.

The lens specification is as follows:
Lens Construction 11 elements, 7 groups, 2 ED glass elements, 3 aspherical elements,
Picture Angle, DX Format 99-61degrees,
F stop range 4.0 to 22,
Closest focusing distance 0.3metres, 1 foot,
Maximum reproduction ratio 0.12,
Filter size 77mm,
Dimensions 82.5 x 90mm,
Weight 485 grams.