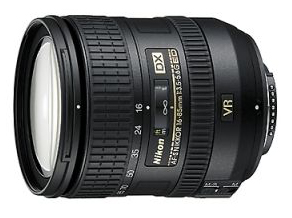 This is an excelllent performing wide range zoom lens for Nikon DX cameras, provided you can live with the limited aperture ranges. The lens would be ideal for subjects ranging from landscapes to portraits.
The lems has a zoom range of 5.3 times, covering a focal range of 16 to 85mm. Vibration Reduction II is included to help give sharp hand held images, at slow shutter speeds.
Extra low dispersion glass elements are included to minimize any chromatic aberrations and to improve contrast. The silent wave motor is used to enable fast focussing and a seven blade rounded diaphragm opening is used to make give an excellent bokeh for the out of focus areas.
This lens is a great replacement for the older 18-70mm AF-S kit lens. At the long end the aperture is limited to f/5.6 which may limit its application in some situations. At the 16mm end there is some vignetting and you will need to stop down by several stops.
This lens has a good magnification ratio at the closest focussing distance and can be used for reasonably close up images. The image quality is quite good for this lens at its price point.
Flare and ghosting does not appear to be a problem with this lens, but take care when directly facing strong light sources.
The auto focus speed is very good and the vibration reduction (VR) enables you to shoot down to around 1/10 second without any problems.
There are many zoom lenses in this category to choose from and some are summarised as follows:
Sigma (Nikon Mount) 10-20mm f/4-5.6 EX DC HSM Lens

 – Ultra wide angle, DX zoom.

10-24mm f/3.5-4.5G ED AF-S DX Lens

 – Ultra wide angle, DX zoom lens.

12-24mm f/4G IF ED AF-S DX Lens

 – Wide angle, constant aperture, DX zoom.

16-85mm f/3.5-5.6G ED VR AF-S DX Lens – Normal focal length, DX zoom.

17-55mm f/2.8G IF ED AF-S DX Lens

 – Normal focal length, DX f/2.8, constant aperture zoom.

18-200mm f/3.5-5.6G ED VR II AF-S DX Lens

 – Wide range focal length, DX zoom.

55-300mm f/4.5-5.6G ED VR AF-S DX Lens

 – Wide focal length range, DX zoom.
Generally lenses with a wider focal length range will not perform as well as those with a narrower focal length range, but they may be more convenient for travelling.
There are many examples with this lens on the Flickr site.

The specification of the lens is as follows:
Lens Construction 17 elements, 11 groups, 2 ED glass elements and 3 aspherical lenses,
Picture Angle,DX Format 83° to 18°50',
F stop range 3.0-5.6 to 22,
Closest focusing distance 0.38 metres,
Maximum reproduction ratio of 0.22 times,
Filter size 67 mm,
Lens Cap Snap-on,
Lens Hood HB-39
Dimensions 72 x 85 mm,
Weight 485 grams.