Quite often with my images I like to go back and look at images I took a few years ago and reprocess them.  Generally the processing software has improved with much better noise reduction and other enhanced processing actions.  Also with time, our processing techniques may also have improved significantly with improved skill level.
With the restrictions on travel over the last couple of years also due to the dreaded Covid19 virus, I am quite happy to visit many of my previously captured images and reprocess some of them.
This image was captured and stitched from four images, two rows, each of two images.
Camera settings were manual focus, manually set shutter speed, with the camera placed on a tripod and a Manfrotto rotator with click stops at the set rotation angles and a nodal rail to offset for any Parallax error in rotating the camera.
Camera: Nikon D700,

F-stop: f/2,

Exposure time: 30sec,
ISO 5,000,
Lens NIKKOR 28mm f/1.8G.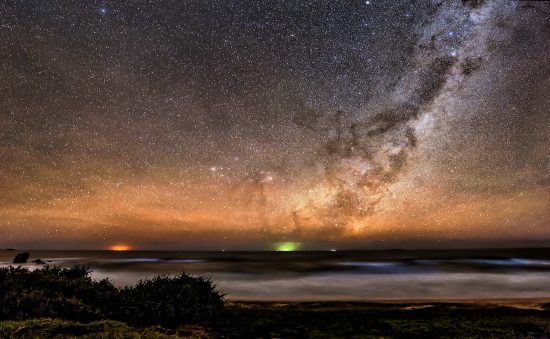 Many Astro photographers take lots of images and stack them to get their best results in photographs of the Milky Way similar to this one, but I find the stacking methodology quite messy and frustrating in taking so many images and also stitching them in a panorama.
The alternative method I have used for this image is by processing the image in DXO PhotoLab 4 and also post processing in NIK software, Color Efex Pro 4 to finally enhance the image.  I am quite happy with the result I have achieved for this image.