The Nikon Z50 is a wonderful small camera, it can almost be called tiny, compared to some of the larger Mirrorless and large Digital SLR cameras.
It has a huge resolution for a small camera, 20.9 million effective pixels and has a capability of a wide range of ISO settings, from ISO100 to ISO51,200 which can be chosen from step sizes of 1/3 and 1/2 EV.  Some of the older cameras of a few years back were only 4 to 12 MPixels, how technology has advanced.
The Z50 has most of the functionality of most of the more expensive cameras but on a smaller scale, sumarising below are a few of the major things provided with this camera;
The camera does not have in camera stabilisation, but the lenses do have in built Vibration Reduction.
CMOS sensor with 20.9 million effective pixels.
NEF (RAW) and JPEG file structure.
Shutter Speed, 1/4000 to 30 seconds.
Flash sync speed, X= 1/200 seconds.
Up to 11 frames per second.
ISO sensitivity, ISO 100 to 51200.
Built in flash.
Video, 3840 x 2160 (4K UHD); 30p, 25p, 24p,
Video, 1920 x 1080; 120p, 100p, 60p, 50p, 30p, 25p, 24p,
File format, MOV, MP4.
I have alredy covered the fine detail of this camera and also its two kit lenses, the NIKKOR Z 16-50mm and the NIKKOR Z 50-250mm in previous blogs so will not dwell on that here.  This camera almost handles like an SLR camera and I really like it for that reason.  I have been using the camera with the two kit lenses which I have already blogged about in the links above.  Those two kit lenses are really suited to this camera and they both perform really well.
Sample images
Some of the  previous DX kit lenses have not been great performers but this one is appearing to be quite sharp and with good contrast.  There are a couple of flower images below, both Adeniums (Desert Roses).  Getting these two images was about as close as one can get with this lens without moving to a macro lens.  To my mind both images turned out reasonably well.  The first image, the red desert rose has been captured at ISO100, f/6.3 and 1/160 second.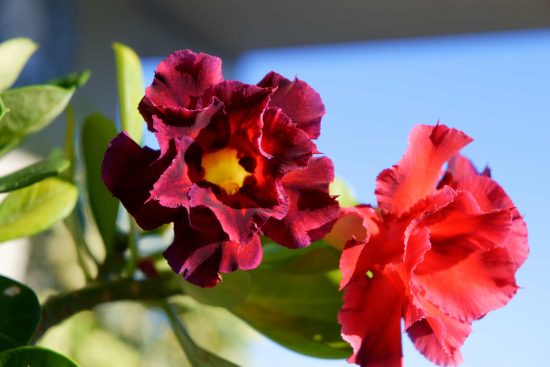 The second Desert Rose has been captured at ISO100, f/6.3 and a shutter speed of 1/80 second, there is no concern with shutter speed here with this lens as it does have vibration reduction to reduce camera shake if it occurs.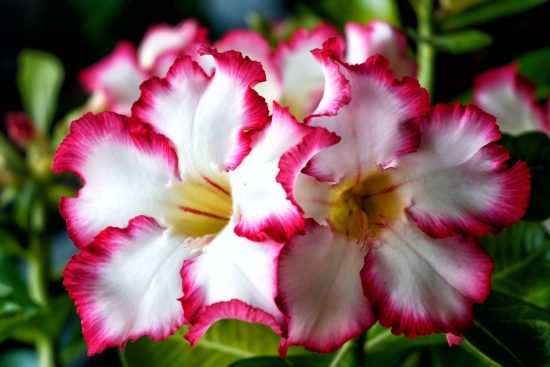 The following two images have been captured at the Mount Tamborine botanic gardens here on the Gold Coast which is a beautiful spot for photography.
With the following two images I have included a 100% crop to give some understanding of the quality and sharpness of these lenses on the Z50 mirrorless camera, even at 100% crop the frog does look reasonably sharp.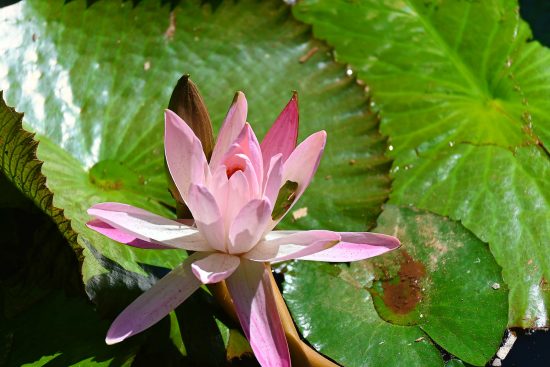 All these images have been processed in DXO PhotoLab 4 with a very minimal amount of post processing so as to get a good understanding of the basic unprocessed image files.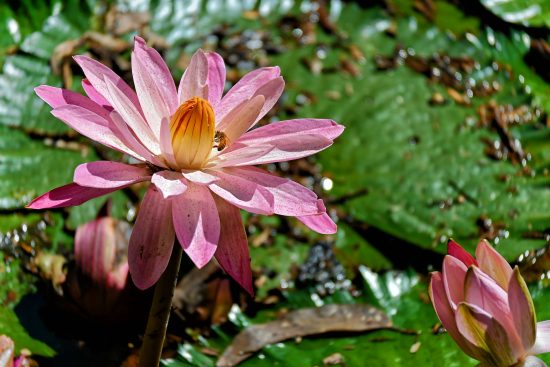 I was really struck by how good and sharp the 100% crop of the bee is in this image.  It almost looks like a full image and not a crop.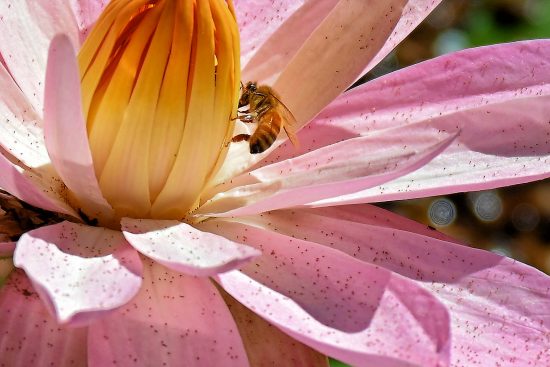 Summing Up
Even today the phone images do look reasonable but they do have limitations and it is with these limitations that cameras like the Z50 can step up to the plate and provide something a little better.  This camera is small and with the retractable lens it can be stored away virtually anywhere and when you bring it out you will get exceptional images.
If you need any camera gear similar to what I use, I recommend you try B&H on the link below for your purchases.