Last weekend I visited the Vivid Festival at Vivid Sydney. It was great using the Nikon D810 camera, what a wonderful camera for such events. The camera has excellent low light capability and also a high pixel count.
Here I would like to note some of the aspects of the photography at Vivid Sidney. Due to weight restrictions for the flight to Sydney I decided to use the smaller Induro tripod, however I really wished that I had my larger and heavier Induro Ct414 carbon tripod to help keep to camera and lens steady. A heavy and stable tripod helps greatly when there are crowds around and you are likely to get bumped resulting in movement of the camera. Many of the images were captured at around f/2.8, 1 second to 1/8 second and at ISO's ranging from 1600 to 3200.
To my mind the best night displays were at the Taronga Zoo and at the Sydney Opera House. At the Zoo there were many different animal illuminated multimedia light sculptures which were beautiful to photograph with available light.
The first image below is of one of the animal sculptures from the zoo. Most of the images I captured at the zoo were with a small tripod with the legs folded together to for a monopod of sorts, sometimes improvisation does help.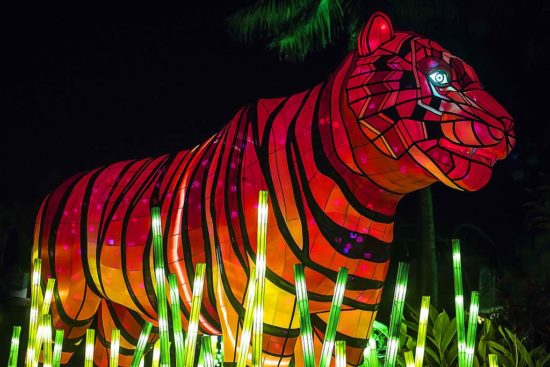 During the day time at the zoo I used the Gitzo monopod with the long Nikkor 200-500mm zoom lens however this will be the subject of another blog post in the future.
The second image below is of the Sydney Opera House lit up for the Vivid Sydney displays. For the Opera House images at night I mostly used the Nikkor 105mm Macro lens. this lens is not only suitable for macro images but also work wonderfully well for a general purpose lens.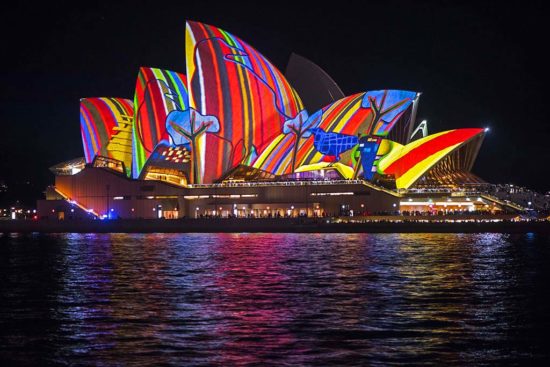 There were so many facets of lighting on the Opera House and so many images captured that I decided to select a few of the still images and combine them with a short movie captured with the Nikon D810. The result below is the video result of this combination.