This Nikon, Nikkor 55-200mm f/4-5.6G ED VR II AF-S DX Lens is essentially a lens for all situations where a normal to telephoto lens is required.
The lens is compatible with the Nikon DX format and offers a 3.6 times telephoto zoom lens with 55-200 mm focal length and f/4-5.6 maximum aperture.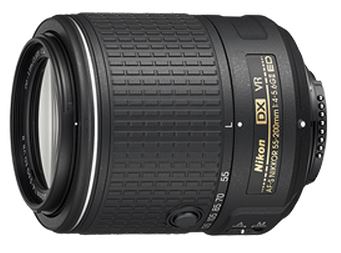 This lens is slightly smaller than the previous version of the lens. The angle of view is equivalent to that of an 82.5 to 300 mm lens in FX or 35mm format. I believe Nikon are trying to reduce the size of their lenses and cameras in an attempt to make them more competitive with the mirrorless cameras, both in size and weight.
The Vibration Reduction (VR) has an effect of 4.0 stops.
Technical Specifications
Fmount, Type G AF-S DX lens with built in CPU,
DX format,
Focal length, 55–200mm,
Maximum aperture, f/4–5.6,
Minimum aperture, f/22–32,
13 elements, 9 groups, includes 1 ED element,
Angle of view, 28° 50′ – 8°,
Minimum focus distance, 1.1m, 3.7ft,
Vibration Reduction, image stabilization,
7 rounded diaphragm blades,
Fully automatic diaphram,
Filter size, 52mm, 0.75,
Dimensions, 70.5 mm x 83 mm (distance from camera lens mount flange when lens is retracted),
Weight, 300g, 10.6 oz.,
Autofocus,
AF-S, Silent Wave Motor,
Internal focusing,
Focus mode, Auto, Manual,
Focal length scale, graduated in millimeters 55, 70, 85, 105, 135, 200,
Manual zoom,
52 mm snap on front lens cap, LC-52,
Rear Lens Cap,
G type lens.
The full range of Nikon Nikkor DX lenses are shown below.