I have Blogged several times about  Nikon PB-6 Bellows units.
As a consequence of these blogs I received an Email from one of my readers about using the PB-6 bellows unit on the recently released Nikon D610, Digital SLR. I had known through my usage of these bellows that it was possible to mount them on my D700 without the use of an extension tube between the camera and the bellows. This reader of my Blog has since contacted me with the following information on his experience with his D610,
Here is the readers input as quoted.
"You may recall that Nikon Support states that the Nikon D610 requires the HK2 fourteen millimeter extension to be placed between the camera and the PB6 bellows.  The second and third photos show this.  However, they are wrong.  The D610 also connects fine with the PB6 bellows with no additional extension. The first and fourth photos show the setup with no extension tube. I think they just lumped all the FX cameras together.  The larger FX cameras may or may not work without the HK2. I don't know.  However, the D610 and presumably D600 works well. It is important to note that the camera must be first mounted in the vertical orientation and then rotated to horizontal.
Why is this significant? With the minimum bellows extension of 48 mm, adding the 14mm extension makes the extension, 62mm too long for 1:1 or less.  This would mean the setup with the PS6 would not be able to copy a full frame 35mm negative. With just the bellows extension, copying the full frame negative is easy. Even larger than typical rangefinder Leica negatives from wide angle lenses work well."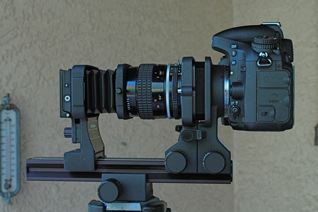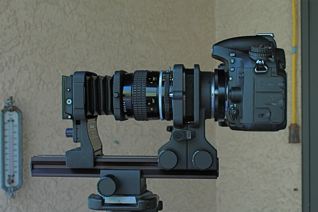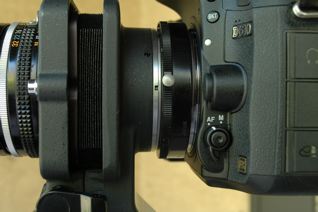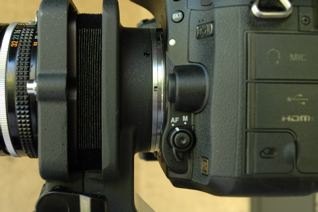 The above information and images are from Ken Schroeder and may prove useful to other users of the PB-6 bellows, thanks Ken.
From the above I can conclude that the PB-6 belows can be mounted on the D600, D610 and D700 cameras and possibly some of the other full frame cameras without the extension tubes.
However my old D2H camera together with some of the other full frame cameras with the protruding grip on the lower part of the body will not be able to be mounted on the PB-6 without the extension tube.
The equipment I use for my photography is mainly as follows: