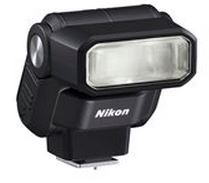 This new Speedlight SB-300 is an extremely compact and lightweight unit. It has up to 120 degrees upward tilt so can be used for creative bounce lighting. Bouncing  light off a ceiling or wall will give a much softer and more natural look to your subject.
Images can be very original and creative depending on how you manipulate the lighting, after all photography is all about the lighting.
This unit is very compact and lightweight design for great portability.
If you attach the SB-300 flash to a camera supporting the Nikon Creative Lighting System (CLS) or a COOLPIX model supporting i-TTL flash control, with the highly accurate i-TTL flash system, the amount of light output is automatically controlled which will assist you in achieving high quality flash shots with great reliability.
This unit is compatible with all readily available AAA batteries.
Specifications
Guide number at 20°C/68°F, 

18/59 (ISO 100, m/ft)

Angle of illumination, equivalent to field of view 

of 27 mm lens for FX format or 18 mm lens for DX format

Effective flash range (i-TTL), 

0.6 m to 20 m, 2 ft to 66 ft; varies with ISO sensitivity, bounce angle, and aperture

Options available,

Manual Flash mode

Fill flash (front-curtain sync)

Front-curtain with slow sync

Rearcurtain sync

Rear-curtain with slow sync

Bounce angle, f

lash rotates vertically up to 120° with stops at directly ahead and at 60°, 75°, 90°, and 120°

Power switch used to turn SB-300 on and off

Power source, t

wo AAA alkaline or NiMH batteries

Flash-ready light

Charging complete, warning lights blink

Flash duration, 

1/1650 s when fired at full power

Dimensions (W x H x D), 

57.4 x 65.4 x 62.3 mm, 2.3 x 2.6 x 2.5 in.

Weight, 

120 g, 4.2 oz.