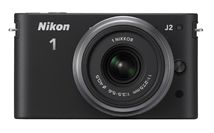 The Nikon 1, J2 is basically a revision of the J1 camera released around 12 months ago.
It offers speed of operation and simplicity. It has a lightning quick image processor, EXPEED 3 and Smart Photo Selector.
The advanced hybrid auto focus system offers a  "phase-detection AF", superb for shooting fast action and a "contrast-detect AF" excellent for capturing exceptional details in poorly lit conditions.
A new Creative mode has been added to the four original J1 shooting modes , allowing for easy specification of the desired shooting scenes from a total of eight options, including Night Landscape. Also the monitor visibility has been increased with a high-resolution, 921k-dot LCD monitor.
These Nikon 1 cameras are ideal for a very small travelling companions.
They can also be used with the larger DX and FX camera lenses with this adaptor.
I have seen some very interesting images taken with these Nikon 1 cameras with longer telephoto lenses using the adaptor.
I quite like the range of Nikon 1 cameras but I do prefer the DSLR cameras with a larger sensor.
 Specifications
10.1 million pixels
Image sensor, 13.2 mm x 8.8 mm CMOS
Image size,

aspect ratio 3 : 2, 3872 x 2592, 2896 x 1944, 1936 x 1296,
movie mode, aspect ratio 16 : 9, 3840 x 2160 (1080/60i), 1920 x 1080 (1080/30p), 1280 x 720 (720/60p),

Electronic shutter speed, 1/16,000-30 s in steps of 1/3 EV; Bulb; Time requires optional ML-L3 remote control
Flash sync speed, 1/60 s or slower
Frame advance rate, Electronic (Hi): Approx. 10, 30, or 60 fps Other modes: Up to 5 fps (auto photo mode or P, S, A, M chosen in creative mode with Continuous selected for Continuous, single AF or manual focus, Shutter-priority auto or Manual exposure mode, shutter speed 1/250 s or faster
Self timer, 2 s, 5 s, 10 s Power source, rechargeable Li-ion EN-EL20 battery
AC adapter, EH-5b AC adapter, requires EP-5C power connector (available separately)
Dimensions (W x H x D), 106.0 x 61.0 x 29.8 mm,  4.2 x 2.4 x 1.2 in.
Weight, 280 g,  9.9 oz
Operating Temperature, 0-40 °C (+32-104 °F)
Humidity, 85% or less.