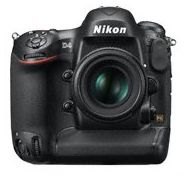 This is the ultimate camera for low light and fast shooting, but it will cost you an arm and a leg.. It is a camera with a  CMOS image sensor, 36.0 × 23.9 mm and the EXPEED 3 image processing engine.
The camera has an effective pixel count of 16.2-million pixels, and an incredible range of sensitivities from ISO 50 to ISO 204800. The data readout speed allowes performance up to 11 fps performance in FX format.
This camera will give the highest quality images at 16MPixels. The camera offers four image area options, FX format (36.0 x 23.9 mm), 5:4 crop (29.9 x 23.9 mm), 1.2x crop (29.9 x 19.9 mm) and DX format (23.4 x 15.5 mm).
The camera also offers three image area options for Full HD video. The cameras  EXPEED 3 processor has been optimized for video as well as stills, rendering movie with reduced moiré, false colors and "jaggies".
The frame rate can also be boosted from 10 fps  to up to 11 fps in DX format. The camera's buffer memory allows shooting up to approximately 100 frames in RAW and up to 200 frames in JPEG. The camera is ready to shoot in approx. 0.12 seconds and uses the new XQD memory cards.
The camera uses both wired and wireless LAN file transfer speeds for faster of data. An advanced Multi-CAM 3500FX AF sensor module is used for faster and shaper subject detection with all 51 AF points with any AF NIKKOR lenses, even in low light.
This camera will be ideal for extremely fast action in low light situations. The D4 aligns its 15 cross type sensors in the central viewfinder area to detect contrast in both vertical and horizontal lines for better AF performance. Each cross-type sensor is responsive with f/5.6 and provides its full performance with all AF-NIKKOR lenses. Moreover, the five central focus points and three points to the left and right of them in the middle line are compatible with f/8. Highly accurate focusing is realized even with the effective aperture value of f/8 by combining a 2.0x teleconverter with super-telephoto NIKKOR lenses, that are frequently used for sports shooting.
Broadcast quality video is available with three image area options The D4 can record 1080p Full HD video at 30/25 or 24p in H.264/MPEG-4, AVC format with broadcast quality. Maximum recording time for a single clip is 29 min. 59 seconds.
The camera is built for extreme reliability with the D4's shutter being tested for 400,000 cycles on fully assembled cameras at demanding continuous burst rates and over extended time periods. The camera is extremely well sealed from moisture.
The D4 and the d800 are the newest cameras in the Nikon line up at the time of writing this. The way I see theses cameras fitting in, is that the D4 is the speed demon and is the camera that would be used for such things as events, weddings and sports where fast action and large in camera buffers are required. In my view the camera of choice for applications where detail would be required is the D800 or D800E. I see the D800 being used in applications where speed is not so important but where detail is the ultimate criteria, such as landscape, studio and nature photography where you can take time to compose and set up.
See these cameras below at the B&H store.
Specification
Effective pixels, 16.2 million
Image sensor, 36.0 x 23.9 mm
Media XQD and Type I CompactFlash memory cards
The electronic rangefinder can be used with lenses that have a maximum aperture of  f/5.6 or faster the electronic rangefinder supports the 11 focus points with lenses that have a maximum aperture of f/8 or faster
Movie Metering, TTL exposure metering using main image sensor Frame size (pixels) and frame rate

1,920 x 1,080; 30 p (progressive), 25 p, 24 p
1,920 x 1,080 crop; 30 p, 25 p, 24 p
1,280 x 720; 60 p, 50 p, 30 p, 25 p
640 x 424; 30p, 25p
Actual frame rates for 60 p, 50 p, 30 p, 25 p, and 24 p are 59.94, 50, 29.97, 25, and 23.976 fps respectively; all options support both high and normal image quality
File format MOV

ISO sensitivity Automatically adjusted in the range ISO 200-12800 or ISO 200-Hi 4.