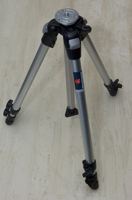 I do prefer a tripod in many situations. Some examples of where I find a tripod useful and in some cases essential are as follows:
When using a long telephoto lens.
With Macro photography a tripod can greatly increase your success rate.
Where you want to carefully frame an image, a tripod is very useful, especially for landscape images.
Long time exposures require a tripod. Sometimes I may use a 10-stop Neutral Density (ND) filter for water scenes, resulting in exposures several minutes long.
Night photography. Even though cameras now can use extremely hig ISO settings a tripod can be very handy for night images and is essential for star images at night.
When selecting a tripod for your photography there are many issues to consider.
Length of the tripod when closed. If you travel with your tripod this can be a critical consideration, especially if you travel by air.
Length of the tripod opened. For comfortable operation the tripod needs to ensure that the camera is at least at eye level with the camera installed. If operating outside on uneven ground then it may need to be even a little longer to compensate for the uneven terrain.
Consider the minimum height of the tripod when the legs are extended. By this I mean how close to the ground can you get, as some tripods enable the legs to be spread to get closer to the ground.
The weight of the tripod may be a factor if you carry it for any distance.
Different tripods will have different adjustment mechanisms for the height of the legs, some will be adjusted using lever clanps and others using twist locks. Choose the type you are more comfortable with.
Tripod load rating. Tripods are generally rated for the total weight of the load they can carry. Ensure that you select one by considering the maximum weight you will place on it and allow for sufficient margin. Some manufacturers also will specify the maximum focal length telephoto lens to be used with a particular tripod.
The tripod leg material can also be a consideration. There are essentially three main materials, basalt, aluminium and carbon fibre. Many photographer will argue that the carbon fibre tripods are more rigid and lighter.
The ultimate goal of a tripod is stability, so ensure that it is stable. Tripods with a centre column are generally less stable than those without a centre column.
The last consideration is the tripod cost. Beware, do not skimp on cost. Cameras really have a limited life but a good quality tripod should last a lifetime if you look after it and it meets all your needs.
Tripod Accessories
There are many accessories which need to be added to a tripod to make it workable.
A tripod head is essential to attach the camera to the tripod. There are a variety of heads available as follows:
Pan and Tilt – for movies.
Fluid – Generally for movie cameras.
Ball – great general purpose head.
Gimbal – long lens support.
Panorama – to enable stitching of images.
Geared – for accuracy and macro photography.
The variety of heads is endless.
Here are a few tripod recommendations.